Bridge of Spies, Jane Got a Gun, Steve Jobs junkets cancelled.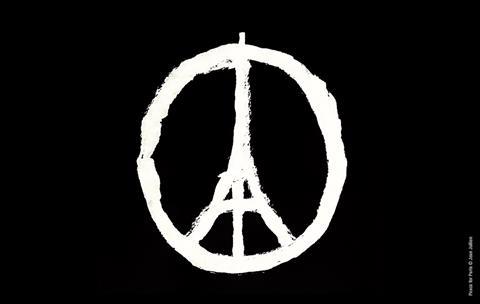 Most Paris cinemas were due to reopen their doors on Monday in the aftermath of terror attacks on the French capital that killed at least 132 people and left 350 injured, 99 severely.
In a campaign to mark France's three days of national mourning, which entered its final day on Monday, the National Federation for French Cinemas (FNCF) announced it was making available a silent, seven-minute DCP showing the "Peace for Paris" symbol and suggested cinemas played the clip ahead of screenings.
"Cinema theatres are among the most important places of culture in the heart of the city… Cinema must participate actively in fostering social links and national unity during this moment of mourning and solidarity," said FNCF president Richard Patry.
The design incorporating the Eiffel Tower into the peace symbol, created by French graphic designer Jean Jullien in the wake of the attacks, has become a global sign of solidarity with Paris and the victims of the attacks.
Impact on cinema
But the impact of the deadly assaults - just 10 months after jihadist shootings at satirical magazine Charlie Hebdo and a kosher supermarket in eastern Paris – is likely to be felt by the French film industry for weeks, even months, to come.
"People are defiant - they're already back out in the cafes - but I have a feeling that for the next week or so not many people are going to want to go to the cinema," said James Velaise, CEO of Paris-based distributor Pretty Pictures.
Cinema admissions in Paris fell by nearly 40% in the week after the Charlie Hebdo killings on Jan 7, and national figures for the whole of Jan 2015 were down 950,000 admissions, representing a drop of 5.4% on Jan 2014.
Velaise was talking just 48 hours after a series of coordinated attacks across the capital on Friday night by Islamic State gunmen and suicide bombers at the Bataclan concert hall, four separate restaurants and outside the Stade de France where a football match between France and Germany was taking place.
The attacks came just as French cinemas were rolling out some of the most highly anticipated pictures of the year, including James Bond movie Spectre and The Hunger Games Mockingjay – Part 2, which opens on Wednesday (Nov 18).
Within hours of Friday's bloodshed, Velaise postponed Pretty Pictures's imminent release of Inside the Cell (Made in France), an eerily prescient thriller about a journalist who infiltrates a terror cell.
Velaise says that he and producer Eric Besnard at Paris-based Radar Films rapidly decided that both the story and poster campaign featuring an AK-47 incorporated into the form of the Eiffel Tower were "too close to home" for a release right now.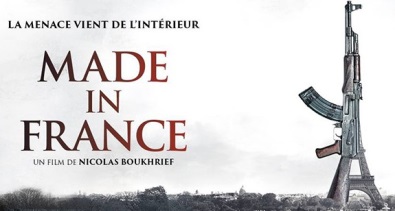 "There was a big campaign with 350 posters in the Metro. Out of respect, they were pulled on Saturday morning," said Velaise. "The campaign in the national press was due to start on Monday and that's been pulled too.
"We also temporarily closed down the Facebook page because there were a huge amount of likes on it. No-one forced us to do this we just acted out of a sense of respect and responsibility."
Cinema closures
All of Paris's cinemas were closed on Saturday out of respect for the victims and due to security concerns but MK2, Les Ecrans de Paris and UGC reopened most their Parisian theatres on Sunday.
The Gaumont-Pathé chain; City of Paris-owned Le Forum des Images and Le Louxor and the state-backed Cinématheque Française, which is currently running an extensive Martin Scorsese exhibition, remained shut on Sunday but were due to reopen on Monday.
Arthouse chain Les Ecrans de Paris, owned by distributor and exhibitor Sophie Dulac, said in a statement it was important to keep showing films in the wake of Friday's events.
"We don't intend to give into the fear and panic the authors of these terrible acts were trying to disseminate. Culture is one of the most important defences against barbarism, and we have to keep sharing it," read the statement.
The chain announced on its website on Sunday that French New Wave legend Agnes Varda would attend a screening of her 1965 film Le Bonheur at its Reflet Medicis theatre in the Latin Quarter in the afternoon as planned.
The Ministry of Culture and Communications kept public cultural institutions in the Ile de France, or Paris Region, – such as the Louvre and Quai d'Orsay museums - shut on Sunday, reopening them on Monday.
It called on private operators in the cultural sector to postpone public gatherings or reinforce security measures, especially around entries and exits, if they decided to go reopen their doors, adding the security of their venues was their responsibility.
"This extra security will mean things like checking bags, beefing up security at entrances, keeping an eye out for suspicious packages or items left behind in the theatres," said FNCF general secretary Marc-Oliver Sebbag. Armed guards, he said, were an unlikely option.
In the meantime, the French government drafted in an extra 1,000 troops to patrol the city's street.
Disneyland Paris announced on Sunday it would remain closed until Tuesday (Nov 17) as part of France's three-day national mourning period.
"We mourn those lost to the horrific attacks in Paris. We pray for the injured and we hold them all in our hearts," Euro Disney president Tom Wolber said in a statement.
The three-day period of mourning goes into Monday although schools and other state institutions will be open as usual.
Premieres cancelled
A number of high-profile premieres and press junkets scheduled for the coming week have also been cancelled.
Twentieth Century Fox France called-off the Sunday night premiere of Cold War thriller Bridge of Spies as well as a press junket with director Steven Spielberg the following day ahead of its French release on Dec 2.
Mars Distribution abandoned the world premiere of Gavin O'Connor's Western Jane Got a Gun, starring Natalie Portman as a woman battling to save her former outlaw husband from a violent gang, at the UGC Normandie on the Champs-Elysées on Monday night.
The theatre, which has hosted the Cannes Film Festival announcement for the last few years, was one of the few UGC theatres not to open its doors on Sunday.
A number of television appearances with Portman, who currently resides in Paris where her husband Benjamin Millepied is director of the Paris Opera Ballet, were also cancelled.
The film is still due to be released in France on Nov 25.
Universal also cancelled a planned Q&A on Steve Jobs with director Danny Boyle, which was to have taken place on UGC's Les Halles cinema on Monday.
Paris digests killings
After a subdued Saturday morning, Paris started coming to life again late Saturday as its inhabitants took to the streets in defiance of Friday's killings.
Crowds gathered at the targeted restaurants and the Bataclan music hall – where at least 89 people lost their lives at an Eagles of Death Metal concert when it was stormed by four gunmen armed with AK-47s and fitted with suicide vests – to pay tribute to the victims.
Concert organiser and Bataclan co-owner Dominique Revert said there was no question that the venue would not re-open.
"It's going to be a bit heavy as a place for a few months, perhaps even years. But of course the Bataclan will reopen, it would be capitulating if we don't reopen it. We can't capitulate," he told French media.
Among those laying flowers at the Bataclan were U2 lead singer Bono, bass player Adam Clayton, drummer Larry Mullen Jr and guitarist The Edge.
The band was scheduled to play at a concert in Paris on Saturday night (Nov 14), to be broadcast on HBO, but decided to cancel the event.
Coldplay and the Foo Fighters also dropped out of upcoming performances in Paris, while Marilyn Manson was still due to play at the Zenith in Paris on Monday.
Legendary French rocker Johnny Hallyday also went ahead with a concert in the eastern city of Strasbourg on Saturday, calling for a minute's silence for the victim midway through the event.
Bataclan owner Revert said the city's event organisers were due to meet this week to discuss future security measures.
Although Parisians defiantly took to the street on Sunday, the atmosphere remained tense and jittery amid a series of false alerts over the weekend.
Hundreds of people reportedly fled Place de la République in the centre of the French capital on Sunday after a series of loud bangs caused by fire crackers sparked panic.
There were also calls for the upcoming COP21, the biggest climate change conference since 2009 which is due to kick-off in Paris at the end of November , to be downsized or even postponed.
Some 50,000 people are expected to travel to Paris for the conference aimed at securing a new global treaty to combat climate change. French President Francois Hollande has it will go ahead as planned.