The parties unveiled their new sales partnership on Tuesday, ending speculation as to who would handle Participant Media's slate of narratives and select documentaries.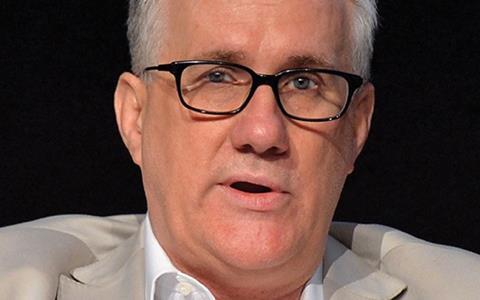 The partnership signals Participant CEO David Linde's (pictured) intention to grow the company's international presence and will kick off at the EFM in Berlin next month with previously announced Amblin films: thriller Entebbe from José Padilha and Rupert Wyatt's sci-fi Captive State.
The deal will cover Participant films in all territories outside North America, including available non-output territories for films that fall under Participant's deal with Amblin Partners.
Participant plans to provide Lionsgate International with up to five narrative films annually, along with several documentary features. The partnership deepens Lionsgate International's roster of content suppliers, which includes CBS Films, Alcon Entertainment, Black Label Media and River Road.
The agreement builds on a long-standing collaboration that dates back to Participant's strategic investment in what is now Lionsgate-owned Summit Entertainment and continues with the companies' collaboration on the Julia Roberts starrer Wonder, currently in post-production.
"We're delighted to expand our collaboration with Jeff Skoll, David Linde and the entire Participant Media team," said Lionsgate Motion Picture Group chairman Patrick Wachsberger and international COO Andrew Kramer.
"Participant is a major creative force with a unique and resonant signature, and we're proud to handle their deep pipeline of prestigious, commercially exciting and socially relevant films. The combination of Lionsgate's international distribution organisation and Participant's production, marketing and social impact teams will allow us to find opportunities to enhance the social impact of their movies as well as maximise their box office performance."
"We have successfully worked with Patrick, Andrew and the Lionsgate team for years and partnering with them on our international expansion is a perfect and natural broadening of our relationship," said Linde. "One of Participant's key initiatives is to dramatically expand our international footprint, and with Lionsgate's best in class sales team by our side, this will happen alongside the best distribution in the world."
Wachsberger, Kramer and Lionsgate Motion Picture Group executive vice-president of international sales Wendy Reeds and Crystal Bourbeau, both based in the company's London office, will lead the Lionsgate team at Berlin.
Entebbe stars Rosamund Pike, Daniel Bruhl and Eddie Marsan and tells the true story of one of the most daring hostage rescues in history, told from the varying perspectives of the hostage-takers, victims and rescuers. Working Title produces.
Captive State stars John Goodman and Ashton Sanders and takes place in a Chicago neighborhood nearly a decade after it has been occupied by an extra-terrestrial force.
Gabriel Brakin, general counsel and executive vice-president of business affairs for Participant Media, Linde and executive vice-president of narrative films Jonathan King brokered the deal with Kramer for Lionsgate International.