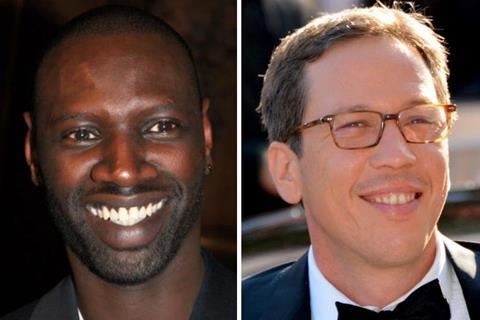 Pathé International is launching sales on French diplomat-turned-screenwriter Antonin Baudry's directorial debut, the nuclear submarine action drama The Wolf's Call starring Omar Sy, Mathieu Kassovitz, Reda Kateb, François Civil and Paula Beer.
The company will premiere first footage and has released fresh details of the plot for the underwater thriller starring Kateb and Sy as commanders of a ballistic missile submarine (SSBN) whose craft takes France to the brink of nuclear armageddon.
Kateb plays commandant Grandchamp alongside Sy as second-in-command D'Orsi, who manage to extricate their submarine from a crisis situation, but in a manner deviating from protocols. Rising young actor Civil plays a sonar detection specialist.
In the backdrop, mystery whirls around a strange sound, which nearly jeopardised the operation and remains unidentified. Defying orders, Civil's acoustic specialist investigates further and unwittingly sparks a second more dangerous manoeuver by the submarine.
The film marks the directorial debut of Baudry (aka Abel Lanzac), a former diplomat who was an advisor and speechwriter for Foreign Minister Dominique de Villepin, an experience which he subsequently used as inspiration for his best-selling graphic novel Quai d'Orsay.
Bertrand Tavernier co-wrote (with Baudry) and directed an adaptation of Quai d'Orsay, titled The French Minister for the international market, which won best screenplay at San Sebastian Film Festival in 2013.
Like Quai d'Orsay, Baudry's screenplay for The Wolf's Call is based on observation.
"The characters are inspired by encounters I have had during my time aboard, characters who speak with the unexpected and involuntary poetry of real people," says Baudry.
The Wolf's Call plot revolves around the complexity of operating these hi-tech vessels.
"It's no small task: the ballistic missile submarine is the most complex object in the world," he says. "As a former SSBN major once told me: 'These ships are the mighty regulators of humanity's dark forces.' But what if the system fell prey to its own defences?"
Produced by Paris-based Les Productions du Trésor and Pathé, the production also features Pierre Cottereau as director of photography, a trio of top sound engineers Nicolas Cantin, Thomas Desjonquères and Cyril Holtz as well as editors Saar Klein and Nassim Gordji-Tehrani. Marc Steitenfeld, whose credits include Prometheus, Robin Hood and American Gangster, is writing the original score.
Don't miss out. Subscribe from as little as £2.35 a week with our Cannes Film Festival offer and receive unlimited online access.