Period drama stars Downton Abbey's Hugh Bonneville and The X Files' Gillian Anderson as Lord and Lady Mountbatten.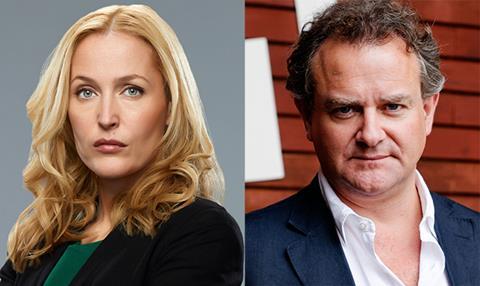 Pathé International has revealed a raft of sales on Viceroy's House secured at the American Film Market (AFM) (Nov 4-11).
The period drama has sold to Australia/NZ (Transmission), Germany (Tobis), Greece (Feelgood), Italy (Cinema), Latin America (Gussi), Malaysia (Suraya), Middle East (Gulf), Portugal (Nos), Scandinavia (Nordisk) and Singapore (Shaw).
Pathé will distribute the film in the UK and France and Reliance Entertainment will distribute the film in India.
The film is in postproduction and scheduled for completion in May 2016
Viceroy's House is directed by Gurinder Chadha (Bend it like Beckham) from a screenplay by Chadha, Paul Mayeda Berges and Moira Buffini. The film was shot in Jodhpur, India.
The British cast are led by Hugh Bonneville (Downton Abbey, Paddington) as Lord Mountbatten; Gillian Anderson (The X Files, House of Mirth) as his wife, Lady Mountbatten; Lily Travers (Kingsman) as their daughter, Pamela; and Sir Michael Gambon (Harry Potter, Quartet) and Simon Callow (A Room With A View, Four Weddings and a Funeral) as key civil servants.
The Indian and Pakistani cast are led by Manish Dayal (The Hundred Foot Journey), Huma Qureshi (Gangs of Wasseypur) and Om Puri (The Hundred Foot Journey, East Is East).
The roles of the principal political leaders are played by Tanveer Ghani (Nehru), Denzil Smith (Jinnah) and Neeraj Kabi (Gandhi)
Viceroy's House in Delhi was the home of the British rulers of India. For six months in 1947, Lord Mountbatten assumed the post of the last Viceroy, charged with handing India back to its people.
Mountbatten lived upstairs together with his wife and daughter, while their 500 Hindu, Muslim and Sikh servants live downstairs.
As the political elite took their seats upstairs to wrangle over the birth of independent India, conflict erupted throughout the House and a catastrophic decision was taken that continues to reverberate.
The film is produced by Deepak Nayar (Bend it like Beckham, The End of Violence, Buena Vista Social Club), Gurinder Chadha and Paul Mayeda Berges.
Executive producers are Pathé's Cameron McCracken, Reliance's Shibasish Sarkar, BBC Films' Christine Langan, the BFI's Natascha Wharton and Ingenious Media's Tim O'Shea.
The film is a Pathé, Reliance, BBC Films, Ingenious and BFI presentation of a Bend It Films/Deepak Nayar Production in association with the FilmVast and Filmgate Films.