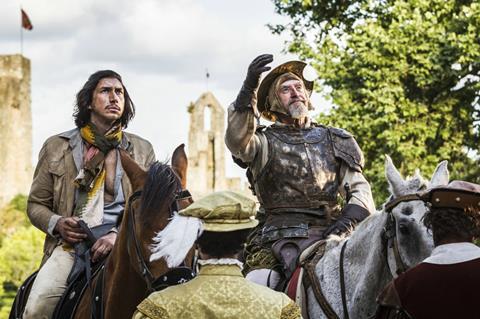 Producer Paulo Branco is seeking an injunction against the Cannes Film Festival in a bid to halt the screening of Terry Gilliam's The Man Who Killed Don Quixote at its 71st edition next month, in the latest twist in the legal battle over who owns the rights to the film.
"Alfama Films Production has been granted permission to obtain a writ against the Cannes Film Festival and will ask the president of the Paris District Court to impose a ban on the screening of the film by Terry Gilliam, The Man Who Killed Don Quixote, due to the violation of its rights, rights which have been confirmed in three separate legal rulings," Branco's Paris-based company said in a statement on Wednesday.
"For legal reasons, this film cannot be exploited in any way without pre-agreement from Alfama Films Production," the statement continued.
It added that a hearing related to the Cannes Film Festival Screening would take place on May 7.
The film is currently embroiled in a legal rights battle between Branco and Gilliam for which a final hearing had been set in the Paris courts for June 15.
In the meantime, the Cannes Film Festival announced last week that the disputed production would screen in the 71st edition as the closing film on May 19.
Prior to Wednesday's statement, Branco's son and lawyer Juan Branco told French news agency AFP that the selection was a move to force the film through and described Cannes Film Festival's delegate general Thierry Frémaux as an accomplice in the affair. He warned that in the coming days it was likely that the "closing screening risked being cancelled."
According to AFP, the film had yet to receive its official classification, or visa d'exploitation, although this is not necessary for it to screen within the framework of a festival.
As late as Tuesday, French distributor Océans Films Distribution president Philippe Aigle said the company was planning to go ahead with the release of the film in cinemas in France on May 19 to coincide with the premiere in Cannes. The writ is the latest hurdle in Gilliam's 18-year struggle to bring his interpretation of the Don Quixote saga to the big screen.