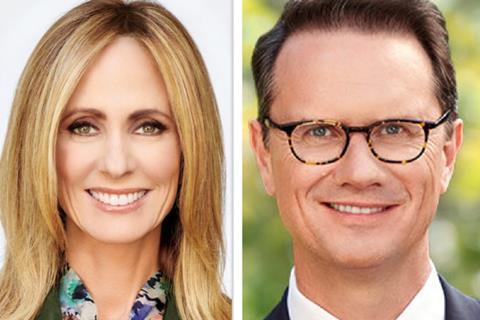 In a Disney announcement that shocked Hollywood on Thursday morning (June 9) Peter Rice has been ousted as head of TV and replaced by his lieutenant Dana Walden.
According to reports Rice, the highly regarded British executive who moved into the Disney fold several years ago with the acquisition of 21st Century Fox's entertainment assets, was reportedly summoned to the office of Disney CEO Bob Chapek where he was informed he was no longer a fit.
Rice, whose contract as chairman of Walt Disney Television and co-chair of Disney Media Networks is understood to run another few years, had been viewed as a potential successor to Chapek, whose own contract is up for renewal in February and has had a rough time of it since he took over from Bob Iger. Most recently Chapek ruffled feathers when he showed a lack of decisiveness over the 'Don't Say Gay' law in Florida, where Disney is a major employer through Disney World
Rice is replaced by Walden, herself a highly accomplished TV executive whose title now is chairman of Disney General Entertainment Content, which means she leads content original entertainment and news programming at the cable and broadcast networks and streaming. Her purview encompasses ABC Entertainment, ABC News, Disney Branded Television, Disney Television Studios, Freeform, FX, Hulu Originals, National Geographic Content and Onyx Collective.
Walden previously served as chairman, entertainment, Walt Disney Television, and reports directly to Chapek.
A Disney press release buried the Rice news. While Chapek hailed Walden as a "dynamic, collaborative leader and cultural force", there was no testimonial for Rice. Walden also came over to Disney from Fox in 2019 and made ABC the number one entertainment network for three seasons in a row, a feat Disney sources said had not been accomplished in 25 years.