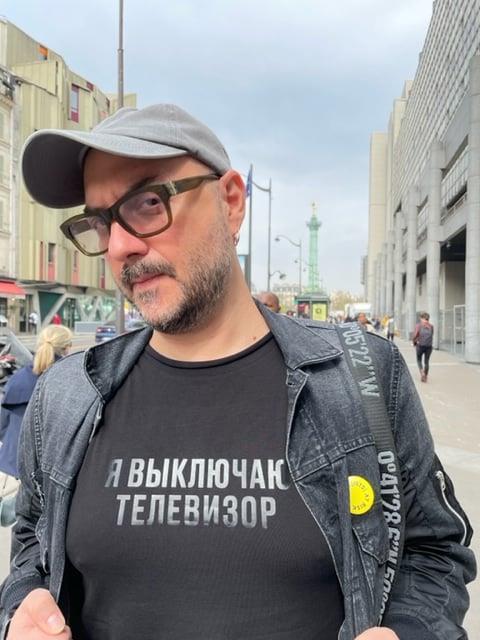 Russian film and theatre director Kirill Serebrennikov has left Russia following the lifting of a travel ban and suspended prison sentence linked to a contested embezzlement case.
News of his departure from Russia emerged on social networks on Tuesday evening (March 29) after Joël Chapron, who oversees Central and Eastern Europe for promotional body Unifrance, posted a picture on his Facebook account of Serebrennikov in Paris, with its historic Place de la Bastille in the background.
The move was confirmed by Ilya Stewart, Serebrennikov's long-time film producer, of Moscow-based film company Hype.
"I am happy to confirm he is out," Stewart told Screen today (March 30). "He has left the country and his travel ban has been lifted. That's all true and he was indeed in Paris for a day."
The director has since travelled to Germany.
Stewart has produced all of Serebrennikov's films, starting with feature debut The Student, which played in Un Certain Regard at Cannes in 2016, as well as Leto and Petrov's Flu, which played in Competition at Cannes in 2018 and 2021 respecitvely.
The pair are completing the director's new film, Tchaikovsky's Wife, which explores the personal life of the iconic Russian composer. It remains to be seen if the film is invited to Cannes this year. If selected, it will mark the first time Serebrennikov can attend the festival in person, having previously been subject to travel bans each time one of his films was selected.
Outspoken stance
The celebrated director has been in the crosshairs of Russian authorities for nearly a decade as a result of his outspoken stance on Kremlin authoritarianism, its persecution of the LGBTQ community, censorship and influence of the Russian Orthodox Church on the country.
Serebrennikov was put under house arrest from 2017 to 2019 on charges of embezzling 129m rubles ($1.5m) from his state-backed experimental performing arts project Plattform. The restriction was lifted in April 2019 but he was banned from leaving Russia until 2023.
A Moscow court found Serebrennikov and two other artistic collaborators guilty of fraud in June 2020. The charges were seen as politically motivated and sparked widespread condemnation from the wider international film community. The International Coalition for Filmmakers at Risk (ICFR) called on prosecutors in Russia to drop the charges, referring to the sentence as a "travesty of justice".
His departure from Russia follows a decision by a district court in Moscow on Monday (March 28) to cancel the suspended sentence and erase the director's criminal record. The decision was taken on the basis that there had been no violations of his parole terms in the first half of the sentence and that the director had repaid all outstanding fines and damages.
Just prior to the court decision, France's prestigious Avignon Festival announced it had programmed Serebrennikov's new play, The Black Monk, as the opening work of its upcoming edition in July, even though at the time it looked like he would not be able to leave Russia.
In the meantime, there have been signs of a softening in the stance of the Russian authorities towards Serebrennikov in recent months after he was allowed to travel to Hamburg for an earlier performance of The Black Monk in January.
It remains to be seen whether Serebrennikov's departure marks a temporary or long-term move. The director has previously vowed to remain in his native Russia in spite of the challenges he faces there.
The climate for dissident voices in Russia has toughened, however, following the country's invasion of Ukraine. Other cinema professionals reported to have left Russia in the past month include director Kantemir Balagov (Closeness, Beanpole), while Petrov's Flu co-star Chulpan Khamatova announced last week that she is now living in exile in Latvia.