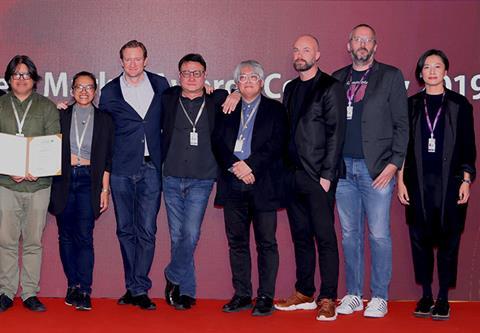 Dodo Dayao's Filipino project Dear Wormwood picked up the Best Project Award, which comes with a cash prize of $15,000, at the International Film Festival & Awards Macao (IFFAM) Project Market last night (December 8).
The jury comprised Singaporean director-producer Eric Khoo, Berlinale EFM director Matthijs Wouter Knol and Shozo Ichiyama, head of Tokyo Filmex and producer/CEO of Kino International.
Produced by Bianca Balbuena, Bradley Liew and Patti Lapus, Dear Wormwood explores how the lives of five women in the remote Philippine mountains are endangered when a cataclysmic event causes time to behave malevolently, threatening to tear reality apart. The jury lauded the project for "its surreal depiction of nature and fear".
Dayao thanked the jury as well as the organisers "and my fellow filmmakers for making this project market such a fun place to be."
Producer Bradley Liew, speaking to Screendaily, said: "It's a wonderful starting point for the project. This kind of project market is good for Dodo's creativity. It has such energy and the meetings were great. We feel a lot of potential for international collaboration. We're excited to start shooting the film at the end of next year if everything goes well."
The Creative Excellence Award ($10,000) went to South African project The Day And Night Of Brahma, from director Sheetal Magan and producer Sheetal Magan.
The Best Co-production Award ($10,000) went to Australia-Japan project Drum Wave, from director Natalie Erika James and producers Anna McLeish and Sarah Shaw.
The Macao Spirit Award ($5,000) was awarded to Portuguese project Uk Kei by director Leonor Teles and producer Filipa Reis.
The jury also made a Special Mention of Ireland-UK-Philippines project Nocebo from director Lorcan Finnegan and producers Brunella Cocchiglia and Emily Leo.
Peter Kuplowsky, producer and lead programmer at Toronto International Film Festival's Midnight Madness, who did several meetings at IFFAM, said: "I thought it was a terrific market with a great variety of projects. What I was excited about was how many embraced co-production with different national cinemas concentrating on their own histories and relationships with each other."
Organisers stated more than 50% of the projects have Asian subject matter and 13 among the total 16 projects are genre films, of which nine were selected by IPM, and one each from international genre market partners – Blood Window (Argentina), FIRST Financing Forum (China), Frontières (Canada) and Sitges (Spain). The remaining three projects are arthouse titles.
The IFFAM Industry Hub included the Works In Progress Presentation showcasing films in post-production such as Dutch director Jim Taihuttu's Indonesian wartime drama The East and Yakuza Princess, an action thriller from director Vicente Amorim.