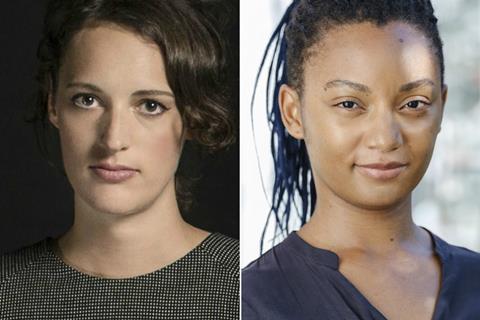 Women in Film & TV (UK), the membership organisation for women working in creative media in the UK, announced its 2018 awards today (Dec 7), with Phoebe Waller-Bridge, Rungano Nyoni and Juliet Stevenson among the winners.
Actress Stevenson received the Lifetime Achievement award, presented by her Truly, Madly, Deeply co-star Michael Maloney. Stevenson's film work includes Emma, Bend It Like Beckham and Mona Lisa Smile.
Actress, writer and director Phoebe Waller-Bridge was awarded the writing award. Waller-Bridge is best known for creating and starring in sitcoms Crashing and Fleabag, as well as writing and producing BBC drama Killing Eve. Her film credits include Goodbye Christopher Robin and a voice role in 2018's Solo: A Star Wars Story.
Welsh-Zambian writer-director Rungano Nyoni won the New Talent award. Nyoni's debut feature I Am Not A Witch was released in the UK in October 2017, and brought her awards recognition including two BIFAs for directing in 2017 and the BAFTA for Outstanding Debut by a British Writer, Director or Producer (with producer Emily Morgan). It is also the UK's submission for the foreign language award at the 2019 Oscars.
Hettie MacDonald received the director award for her work on titles including Howards End, Fortitude and Doctor Who, while Eunice Huthart won the craft award for her career as a stunt double for actresses including Angelina Jolie (Salt, Mr. & Mrs. Smith), Famke Janssen, Milla Jovovich and Uma Thurman.
The 28th edition of the awards were hosted by Sandi Toksvig at London's Park Lane Hilton Hotel.
Women In Film and TV (UK) 2018 winners
Business award – Lucy Ainsworth Taylor, Angela Barson
Creative Technology award – Selina MacArthur
Craft award – Eunice Huthart
Producer award – Gill Isles
Presenter award – Sandi Toksvig
Film finances project management award – Arabella Gilbert
New talent award – Rungano Nyoni
Achievement of the year award – Jameela Jamil
Director award – Hettie Macdonald
Writing award – Phoebe Waller-Bridge
Best performance award – Nicola Walker
BBC News and factual award – Deeyah Khan
Contribution to the medium award – Norma Percy
Lifetime achievement award – Juliet Stevenson