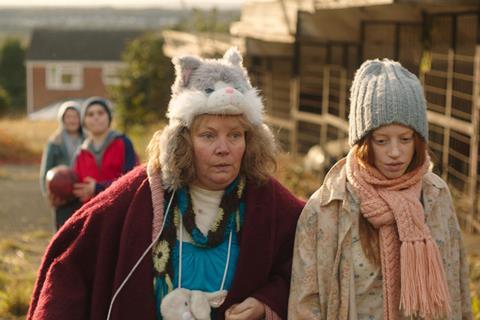 UK director Deborah Haywood's Pin Cushion and Polish filmmaker Malgorzata Szumowska's Mug will be among ten European films competing in an expanded third edition of the ArteKino Festival, running Dec 1-31 this year.
The online festival - which is a joint venture between Franco-German broadcaster Arte and Paris-based film professionals platform Festival Scope - lasted 10-days in its first two editions.
"We really wanted to up the festival's game this year and make it as accessible and attractive to as large a public audience as possible," said ARTE France Cinema chief Olivier Père, who oversaw the selection.
Haywood's Pin Cushion - which originally premiered at Venice Critics Week in 2017 and was also showcased in an IFFR live screening session this year - is among four first features in the line-up.
Other debut works include Cyril Schäublin's portrait of a female con artist preying on the elderly, Those Who Feel Fine; Gábor Reisz's Budapest-set slacker tale For Some Explicable Reason and Jacky Goldberg's documentary Flesh Memory, about a woman who makes her living as internet exhibitionist, operating out of an isolated house in Texas.
The selection also includes Anne Zohra Berrached's abortion drama 24 Weeks, Peter Monsaert's brothel-set family saga Flemish Heaven, Babis Makritis's Pity, about a man addicted to playing the victim, Italian hybrid work Crater, and Katharina Mückstein's coming of age tale L'Animale.
"I wanted to create a line-up that gave as wider a representation of European art-house cinema as possible, in all its originality. I took care not to select more than one film from any one territory. We have 10 films from 10 countries which are all very different in their style and setting," said Père, who headed up Cannes Directors' Fortnight chief between 2004-2009. "It's not a political notion of Europe, but a geographical and cultural one."
All of the films have screened on the international film festival circuit, but none have had a wide theatrical release.
"The peculiarity of the festival is that we're not looking for world or international premieres but rather films which have generated buzz at festivals like Berlin, Cannes, Venice, Rotterdam or Locarno," said Père.
"Aside from the films being European, we're also looking for films which have not had a big theatrical run yet. None of the selections has been released theatrically in France, and seven out of 10 of the titles have not been released in Germany," he added.
"We don't want to compete with the cinema theatre but rather complement it. We see ArteKino as virtual cinema theatre working alongside distributors and theatres."
This edition will be available in 46 territories in several languages, comprising English, French, German, Italian, Polish and Spanish as well as, for the first time, Ukrainian, Romanian, Hungarian and Portuguese.
A total of 50,000 free screenings (5,000 per film) will be made available throughout the month of December on the dedicated ArteKino site.
Spectators will also be able to cast their vote for the ArteKino audience award, which comes with a €30,000 cash prize to be split between the director and sales agent of the winning film.
In other ArteKino news, ARTE and Festival Scope are planning to extend the activities of the platform in 2019, to showcase a new long or short film every month throughout the year.
The ArteKino 2018 line-up:
Title, director, nationality, sales company
24 Weeks, Anne Zohra Berrached (Germany) Beta Cinema
Flesh Memory, Jacky Goldberg (France) WTFilms
For Some Inexplicable Reason, Gábor Reisz (Hungary) Alpha Violet
Crater, Silvia Luzi, Luca Bellino (Italy) Alpha Violet
L'Animale, Katharina Mückstein (Austria) Films Boutique
Flemish Heaven, Peter Monsaert, (Belgium) Urban Distribution International
Mug, Malgorzata Szumowska (Poland) Memento Films International
Pin Cushion, Deborah Haywood (UK) Stray Dogs
Pity, Babis Makritis (Greece) New Europe Film Sales
Those Who Are Fine, Cyril Schäublin (Switzerland) Seeland Filmproduktion