Writer-director Deborah Haywood announces herself as a striking new voice in British cinema with her feature directorial debut Pin Cushion.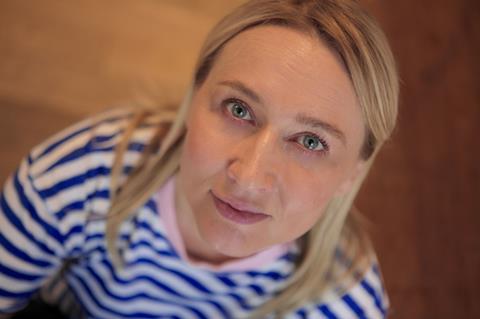 The film premiered at Venice Critics Week in 2017 and will be the opening film for International Film Festival Rotterdam's IFFR Live programme on Jan 26, during which it will screen at more than 45 cinemas worldwide and will also be avaialble on the festival's VoD platform.
Lily Newmark and Joanna Scanlan star in the all-girl gothic fairy tale as Iona and Lyn, a daughter and mother who both struggle adjusting to life in a new town – particularly when the daughter meets a new group of frenemies at school.
Haywood first met Pin Cushion's producer Gavin Humphries of Quark Films when they were introduced as Screen International Stars of Tomorrow in 2007; they stayed in touch while she made shorts and also developed the debut feature at the Binger Film Lab in Amsterdam.
Pin Cushion was developed with Creative England and BFI's NET.WORK and funded by the BFI Film Fund and Maggie Monteith's Dignity Films. Stray Dogs handles international sales.
Haywood will be in Rotterdam for the IFFR Live Q&A alongside the film's cast member Lily Newmark.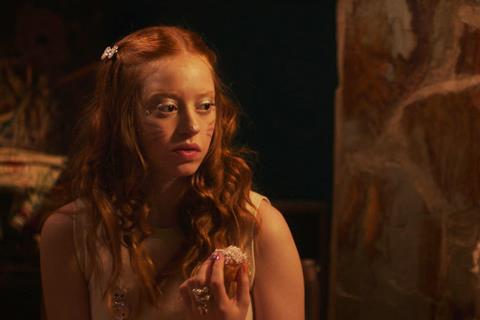 How did this story evolve for you, is it something you've had in your head a long time?
Yes. Since 2008, when I wrote the treatment. I think it needed that long for it to brew… Because it's so personal it somehow makes it harder to "see".
How did you cast Joanna Scanlan and Lily Newmark and what's special about each of them?
Casting director Kharmel Cochrane and her wonderful team helped secure Joanna, who was my first choice for Lyn. As well as being an incredible actress and being super smart, she has an unpredictability behind her eyes, which means you can't stop looking at her.
Lily has a similar thing. Kharmel's team saw hundreds of girls and sent me a bunch of tapes to watch and none of them were Iona (although some were definitely the other girls). Then I saw Lily and thought, 'Wow, she's got an unusual face.' She looks like a rare beautiful salmon. I pressed play and fell in love with her. And when we met, she related to the script really strongly having been bullied herself. Plus she has a really close bond with her mum.
What was it like moving from making short films to making your first feature, was it a big learning curve or did the transition feel quite natural?
I'm still finding it a massive learning curve but at the same time it felt easier to make a feature than a short film because of the incredible support I had around me. Shorts are much lonelier because you don't have that time to build relationships.
Why did you decide to shoot in your old hometown – Swadlincote, South Derbyshire – and in your former school? Did it ever feel too personal?
Whenever I write it always ends up being set there, probably because I know all the locations and because I'm concentrating on character or story, it's a short cut for me to already have the place readily available to me so I don't have to imagine it. Or I automatically imagine it being there. Something like that.
As for shooting at my old school, it felt right to shoot it there because that's where I had such an awful time. Before the film I used to close my eyes when I would drive past there, now when I drive past I have great memories of making a film there. The gym there is very cinematic and hadn't changed one bit. I thought there would still be the odd bit of horrible lingering graffiti about me still there but thankfully it's had several licks of paint since then!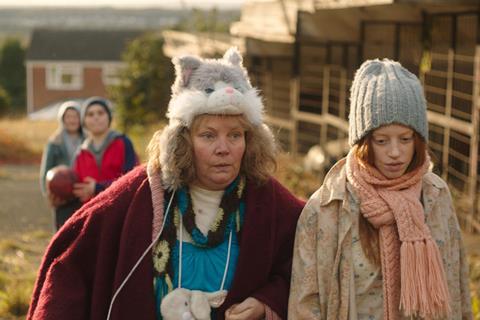 The art direction and production design are so striking, can you tell us a bit about those ideas?
I wanted the art direction to feel like a fairy tale. Especially Lyn and Iona's house. And for the design to contribute to a more fairy tale aesthetic overall. That way, I felt we could be more extreme in the story, and for it to have a different feel to it. To draw you in but also distance yourself as well, so you know all the time that it's 'storytelling'.
Like when you read a fairy tale book as a kid, it would be horrifying but because it was a fairy tale world with fairy tale aesthetics, you always knew it was a story. I think if we'd have made the film in a social realist style it would have been much bleaker and not as attractive for me as a storyteller to make, or for an audience to spend time inside.
How are audiences responding to the film? Have any bullying victims talked to you after seeing it?
Really positively. We've had grown women (and men!) coming up at the end, crying. People who have been bullied thanking us for making the film. And mums and dads (and one grandad) urging us to show the film in schools because their teens are going through similar experiences. But most moving for me is when girls pluck up the courage to come and talk to me (often when English isn't their first language) and share what they are going through [something similar] right now, and to thank me for making a film about it. I understand what they're going through because I went through the same thing. And it's wretched and still affects me in ways I probably don't even know half the time.
How did you come to filmmaking?
I wanted to be a novelist, but I lacked patience, so I started writing scripts. Then I saw a post online by regional screen agency EM Media, looking for short film scripts. I sent them one I'd written called Lady Margaret. I got through to the final six and thought I'd get paired up with a director, but Paul Welsh, who was the executive at the time, said I was going to direct it. My Dad had died two days before I heard I'd gotten a greenlight, and I thought well, the worst thing has already happened, so what do I have to lose? So I went ahead and had a go.
I still feel I'm finding out what a director does and I'm thankful to Paul. I used to feel ashamed that I hadn't been to film school and didn't know about all the stuff you're supposed to know. But now I like making it up as I go along. Not knowing all the rules makes it come out more unique, I reckon.
Do you already have another script or plans for your next film?
Yes. And I'm hoping my subconscious is busy writing away for me while I do the tour of the film festivals with Pin Cushion. I can't wait to make another film!
How does it feel to be part of IFFR Live, with your film going out to 45 cities?
I feel so proud and really excited that Joanna and Lily and myself are going to be beamed along with it. 45 cities! It's like its own one-day film release!
Parting words?
I hope more young females are going to start making more films, because I think the male narrative is on its way out and a new grammar is emerging. One that is more inclusive and more varied and that takes more risks. And is less self-conscious… hopefully anyway.