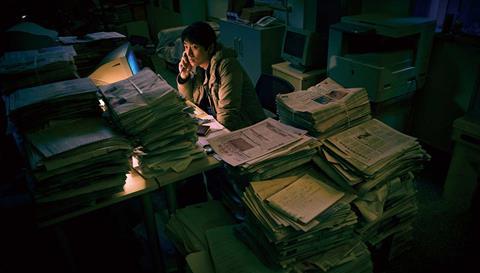 Pingyao International Film Festival (PYIFF) has unveiled the full line-up for its fourth edition (October 10-19), which like many Asian festivals during the Covid-19 pandemic is taking place as a physical event without international guests.
The festival's opening film and Special Presentation are both world premieres of Chinese productions – Sun Hong's This Is Life will open the festival, while Zhang Yang's So Far So Close will screen as the Special Presentation title on the night of the awards ceremony.
PYIFF also announced the titles for its two competition sections – Crouching Tigers for international directorial debuts or second features, and Hidden Dragons for Chinese-language films by first and second-time feature directors.
The 12-title strong Crouching Tigers section includes recent Venice titles, such as Ivan Ikic's Oasis and Indian director Ivan Ayr's Milestone, as well as two world premieres – Japanese filmmaker Yujiro Harumoto's A Balance and Gaël Lepingle's Atomic Summer from France (see full line-up below).
Ayr's last film, Soni, won best film in the Roberto Rossellini Awards at the second edition of PYIFF in 2018.
The Hidden Dragons competition will screen eight world premieres, including Han Shuai's Summer Blur, which has also been selected for Busan's New Currents competition, and the first screening of Cannes 2020 Label title Striding Into The Wind, directed by Wei Shujun.
Hidden Dragons will also screen four Asian premieres, including Song Fang's Berlin title The Calming and Wang Jing's The Best Is Yet To Come, which premiered in Venice. Both films were produced by PYIFF co-founder and leading Chinese auteur, Jia Zhangke.
The Crouching Tiger jury will attend the festival in person and will entirely comprise Chinese directors. The Hidden Dragons jury will be a hybrid of three international members, who will work online, and two Chinese filmmakers who will be present at PYIFF.
The festival's Gala section includes further world premieres of Chinese films, including Zhang Li's Fish Under The Ice and Yi Han's Like A Friend, as well as the Asian and China premieres of films such as Daniele Luchette's The Ties, Alexandre Rockwell's Sweet Thing and Koji Fukada's The Real Thing.
Chinese director Diao Yinan has been appointed as festival mentor and will present screenings of some of his films, including Cannes 2019 title The Wild Goose Lake, as well as a master class.
Other sections include Made-in-Shanxi, comprising films made in Shanxi province, and the retrospective section, Yugoslav New Cinema – the Serbian New Wave (1960s and 1970s).
The festival will also host two industry events – Work-in-Progress Lab Screenings, which has shortlisted 17 projects, and Pingyao-Project Promotion, which will present 22 projects.
Crouching Tigers:
Asia (Israel) – Dir: Ruthy Pribar (Asian Premiere)
The Whale Boy (Russia, Poland, Belgium) – Dir: Philipp Yuryev (Asian Premiere)
Residue (US) – Dir: Merawi Gerim (Asian Premiere)
The Stonebreaker (Italy, France, Belgium) – Dirs: Gianluca De Serio, Massimiliano De Serio (Asian Premiere)
Memory House (Brazil, France) – Dir: João Paulo Miranda Maria (Asian Premiere)
The Book Of Vision (Italy, UK, Belgium) – Dir: Carlo S. Hintermann (Asian Premiere)
Milestone (India) – Dir: Ivan Ayr (Asian Premiere)
Oasis (Serbia, Slovenia, Netherlands, France, Bosnia & Herzegovina – Dir: Ivan Ikic (Asian Premiere)
Preparations To Be Together For An Unknown Period Of Time (Hungary) – Dir: Lili Horvat (Asian Premiere)
Yalda, A Night For Forgiveness (France, Germany, Switzerland, Luxembourg, Lebanon, Iran) – Dir: Massoud Bakhshi (China Premiere)
A Balance (Japan) – Dir: Yujiro Harumoto (World Premiere)
Atomic Summer (France) – Dir: Gaël Lépingle (World Premiere)
Hidden Dragons:
The Best Is Yet To Come (China) – Dir: WANG Jing (Asian Premiere)
Summer Blur (China) – Dir: HAN Shuai (World Premiere)
Cafe By the Highway (China) – Dir: SHI Xiaofan (World Premiere)
Stars Await Us (China) – Dir: ZHANG Dalei (World Premiere)
A Yang Pingdao Film (China) – Dir: YANG Pingdao (World Premiere)
Mama (China, France) – Dir: LI Dongmei (Asian Premiere)
The Calming (China) – Dir: SONG Fang (Asian Premiere)
A Song For You (China) – Dir: Dukar Tserang (World Premiere)
Where Is My Flight Home (China) – Dir: WANG Lei (World Premiere)
An Insignificant Affair (China) – Dir: NING Yuanyuan (Asian Premiere)
Happiness Of Iberia (China) – Dir: CHE Yu-shi (World Premiere)
Striding Into The Wind (China) – Dir: WEI Shujun (World Premiere)