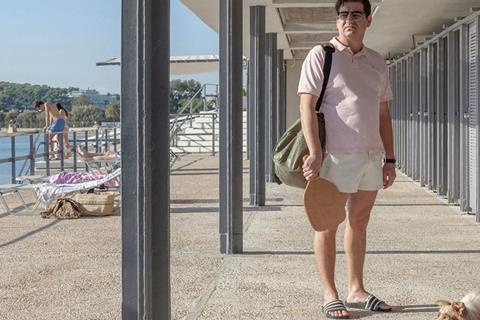 The Greek-Polish co-production Pity, an existential drama by Babis Makridis, was crowned best film at the Iris Hellenic Film Academy (HELFIAC) awards on Tuesday evening (April 23).
Steve Krikris' debut feature The Waiter won four awards, whilst Her Job by Nikos Labot, and Angelos Frantzis' Still River won three each, including best director for Frantzis and best first film for Her Job.
Pity arrived at the awards after appearing at festivals including Sundance, Rotterdam, Odessa (best film and direction), Valetta (best director) and Montenegro (best film). It also won best sound for Stefanos Efthimiou and Leandros Dunis and make up for Evi Zafiropoulou, from seven nominations.
The film is produced by Amanda Livanou (Neda Film), Christos Constantakopoulos (Faliro House Productions), Klaudia Smieja and Beata Rzezniczec (Mandants – Poland). The screenplay, by Makridis and regular Yorgos Lanthimos' collaborator Efthimis Filippou, deals with a man who becomes addicted to playing the victim.
Pity is expected to be Greece's submission in the best foreign language category of next year's Academy Awards. World sales are handled by New Europe Film Sales.
Other winners included the Greek (Anemon Productions), French (Tropical Underground) co-production Obscuro Barroco by Evangelia Kranioti for best feature documentary. The film, which premiered at the Berlinale Panorama, also won best editing for Yorgos Lamprinos (a French Cesar winner in 2019 for Xavier Legrand's Custody).
Debutant Marios Piperides won best screenplay for Greek-Cypriot co-production Smuggling Hendrix, a dramatic comedy on his divided native island that he also directed.
Financial worries
The precarious financial situation of the local film industry was reflected in the low-key awards gala, one of the worst staged in HELFIAC's 10-year history, thanks to a lack of funding.
There was also discontent over the Academy's perceived failure to take a stand on a number of issues affecting the local industry, most recently the criticism levelled at honorary member Costa-Gavras over funding for his new film Adults In The Room.
A lack of active membership is another major issue, with no more than 150 of the 400 HELFIAC members voting in yesterday's awards. Meanwhile the lack of support from cinema-related state institutions continued, with the culture minister not attending for a third year in a row.
The feeling persists that a drastic overhaul at HELFIAC is urgently needed, but whether this is possible in the context of Greece's financial and political climate remains to be seen.
Full list of winners
Best feature film, fiction - Pity
Best feature film, documentary - Obscuro Barroco
Director - Angelos Frantzis for Still River
Screenplay - Marios Piperidis for Smuggling Hendrix
First time director - Nikos Labot for Her Job
Actress Marisha Triantafyllidou for Her Job
Actor - Aris Servetalis for The Waiter
Supporting actress - Maria Filini for Her Job
Supporting actor - Yiannis Stankoglou for The Waiter
Cinematography - Simon Beaufils for Still River
Editing - Yorgos Lamprinos for Obscuro Barroco
Production design - Kostas Pappas for The Waiter
Costumes - Katia Goulioni, Ieva Kupcane, Ilze Kaza, Ilze Negribe
Music score - Coti K (Kyriakos Konstantinou) for The Waiter
Sound- Dimitris Athanasopoulos, Christos Gousios, Kostas Varympompiotis for 1968 by Tasos Boulmetis and Stephanos Efthimiou, Leandros Dounis for Pity.
Make up - Evi Zafiropoulou for Pity
Special effects - Alahouzos brothers, Antonis Kotzias, Anthi Tsirouki for Chinatown-the Three Shelters by Aliki Danezi Knutsen
Short film - Hector Malot: The Last Day of the Year by Jacqueline Lentzou