DOK Leipzig's Golden Dove for Best International Documentary went to the US, while Norway scored a hat-trick at the Nordic Film Days in Lübeck.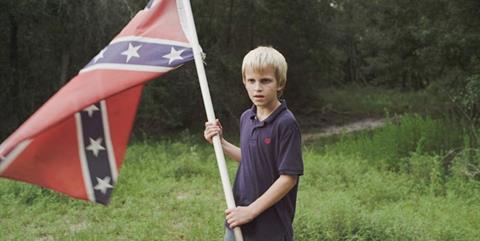 The top award in Leipzig's International Documentary Competition went to Italian-born, US-based film-maker Roberto Minervini's Stop The Pounding Heart whose portrayal of a strict religious family was described by the jury as ¨refreshing and unsettling at the same time.¨
The US-Belgian-Italian co-production is handled internationally by Doc & Film.
The Golden Dove in the German Documentary Competition was awarded to Carlo Zoratti for his feature-length debut The Special Need, while the newly-created Golden Dove for the animation-documentary hybrid form was presented to French director Daniela De Felice's Casa.
A total of 18 prizes with cash awards totalling almost €70,000 ($95,000) included the FIPRESCI Prize for Gang Zhao's A Folk Troupe; the MDR Film Prize for Vitaly Mansky's Pipeline; and the Youth Jury Prize to Joanna by Aneta Kopacz, a graduate of Wajda School's DOCPRO programme.
Whilst the arrival of some festival guests in Leipzig was delayed due to the travel chaos caused by the storm ¨Christian¨ last week, festival director Claas Danielsen, now into his 10th edition as head of the documentary and animation festival, reported that industry accreditations had reached an all-time high of 1,705 and overall admissions could reach a record 40,000.
And the festival itself was awarded a prize even before the 2013 edition had begun when this year's poster design was voted the best in a festival poster competition at the Jihlava International Documentary Film Festival on the eve of DOK Leipzig.
Festival premieres for DOK. Incubator
As part of DOK.Industry, the second edition of the festival's rough cut training format selected another eight projects plus a ¨special guest¨, In Country, in a new collaboration with IFP.
In the programme's final session during DOK.Leipzig, invited professionals learnt that the Danish documentary The Agreement about co-existence between Kosovo and Serbia has been presold to 12 countries and will have its world premiere as the opening film of CPH:DOX's new F:ACT Award competition.
Moreover, Kristóf Kovács' Men With Balls about the attempts of a mayor in a tiny Roma village to bring normalcy to his citizens' lives will premiere in IDFA's First Appearance Competition and is being sold internationally by Berlin-based Rise and Shine.
Rise and Shine's Stefan Kloos is also serving as a co-producer on UK-based Ilinca Calugareanu's Chuck Norris vs. Communism which has John Battsek's Passion Pictures onboard as executive producer, and Kevin McDonald is executive producing Slovak director Marek Mackovic's Okhwan's Mission Impossible about cycling around the globe to reunite Korea.
Asian projects - Docnet and DocWOK
Asia was also a focus in the DOK.Industry programme with the presentation of two initiatives supporting documentary film-makers in the region and improving their working conditions: DocNet Southeast Asia and Doc Wok.
Germany's Goethe-Institut collaborated with six partners from Cambodia, Indonesia, Myanmar, The Philippines, Thailand and Vietnam, and co-financing from the European Union, to launch DocNet Southeast Asia last year.
The venture has already organised regional workshops, conferences and seminars for young film-makers to network among themselves as well as build up contacts with international festivals, broadcasters and producers.
DocNet was also behind the first edition of the ChopShots Documentary Film Festival which was held in December 2012, and a second one is planned in Jakarta from 22-27 April, 2014, with a special focus on animadocs.
Lulu Ratna, project assistant at DocNet, explained that the festival ¨wants to build an audience to see documentaries of their own¨ and pointed out that ChopShots also features a DocNet Campus for young professionals to learn from the experiences of established film-makers.
Meanwhile, in India, the Goethe-Institut teamed up with the British Council to support the year-long Doc Wok training programme for documentary films in postproduction, which was established by Magic Lantern Movies and DOK Leipzig.
The first fruits of this venture had their world premieres at last week's DOK Leipzig - Ekta Mittal and Yashaswini Raghunadan's Distance (winner of a Golden Dove in the International Short Documentary Competition), Pankaj Butalia's Kashmir-set Textures Of Loss and Abhilash Vijayan's That Elephant, From The Bridge - , while the presentation of Dok Wok also showed excerpts of another three ¨works in progress¨ by Shazia Khan (I Never Left), Anjali Panjabi (Miranagari) and Gautam Sonti (Our Metropolis).
Chilean docs looking for partners
Apart from hosting delegations from Brazil and Israel, this year's DOK Leipzig was also visited by four Chilean film-makers with ¨works in progress¨ or completed productions in a market presence organised by CinemaChile.
Executive producer/screenwriter Roberto Trejo of Carnada Films presented Rosita, The Favourite of The Third Reich about the leading Chilean actress and singer of the 20th Century who died alone, poor and forgotten, while Paola Castillo of Errante Productions was in Leipzig with Loreno Giachino's La Directiva, in co-production with Argentina, and 74 M2, co-directed by Castillo with Tiziana Panizza.
Rafael Valdeavellano of La Ventana Cine was looking for partners for two documentaries in development, 20/15 and Chicago Boys, the latter having received a grant from the Sundance Documentary Fund, and director-producer Ana María Hurtado of Antipoder Produccciones unveiled a new ¨work in progress¨, La Encomienda del Abuelo, about the last descendant of the Inca Princes.
South East Europe to be focus region for DOK.Leipzig's 2014 edition
Festival director Claas Danielsen revealed at the presentation of the latest collection of South East European Documentaries (SEED) that South East Europe will be the focus region of the 2014 festival.
The SEED promotional venture, which is coordinated by Zagreb-based Restart and the Croatian Audiovisual Centre, has partners in Serbia, Macedonia, Bulgaria, Montenegro and Slovenia. SEED coordinator Oliver Sertic suggested that more countries may have joined SEED by next year's DOK.Leipzig.
NORWEGIAN HAT-TRICK IN LÜBECK
Norwegian cinema scored a hat-trick when the 55th edition of Lübeck's Nordic Film Days came to a glittering climax in the Hanseatic city's historical theatre at the weekend.
Iram Haq's feature debut I Am Yours, Norway's entry for the Foreign Language Oscar shared the NDR Film Prize for Best Feature Film ex aequo with Danish film-maker Michael Noer's Northwest, a realistic thriller in the tradition of Scorsese's Mean Streets.
The Documentary Film Prize went to Kari Anne Moe's feature-length debut Bravehearts about four politically active adolescents whose lives were radically changed by the massacre on Utaya Island in Norway in 2011; and the Children's Jury gave its prize for the Best Children's Film to Christian Lo's The Tough Guys, while the Interfilm Jury made a special mention of another Norwegian film, Rune Denstad Lenglo's Chasing The Wind.
The main feature film jury including producer Karsten Stöter and director Hendrik Handloegten also gave a special mention to Søren Kragh-Jacobsen's psychological drama The Hour Of The Lynx which also received the Interfilm Church Prize.
This was the second year running that the festival's main prize was divided between two films; last year, the NDR Film Prize had been shared by Thomas Vinterberg's The Hunt and Gabriela Pichler's Eat Sleep Die.
Other prizes included the Audience Award for Kertu by Estonia's Ilmar Raag and the Baltic Film Prize for We Are The Best by Sweden's Lukas Moodysson. Further details of the prize-winners can be found at www.filmtage-luebeck.de.
Industry screenings
The Nordic Film Days' parallel industry programme, the Lübeck Meetings, featured two days of invitation-only industry screening presenting eight films looking for German theatrical distribution.
They included Lena Koppel's It's All About Friends, Pirjo Honkasalo's Concrete Night, Matti Ijäs' Things We Do For Love, the Film Days' opening film Of Horses And Men, and the documentary Expedition to the End of the World.
In addition, BAC Films International showed promo-screenings of two Scandinavian films to be released in 2014: Henrik Hellström's The Quiet Roar and Dagur Kári's Fusi.
Mayor considers funding cut
On the eve of this year's Film Days, the festival's future became the subject of a spat between local politicians after Lübeck's Mayor Bernd Saxe included the event on his hit-list of potential candidates to receive less funding from 2014 as part of a programme of swingeing cuts.
Saxe has proposed that the city's backing of the Film Days should be reduced by €67,000 from the current €250,000. The festival's current budget of €690,000 also receives support from the Land of Schleswig-Holstein (€70,000) and the European Union (€60,000) as well as sponsors, donations and foundations.
The mayor's proposal has attracted negative reactions from the other political parties as well as his SPD colleague, culture senator Annette Borns, while the local newspaper
argued at the weekend that the Nordic Film Days is a signficant economic factor for the city and its only cultural event of an international standing.
Successful German-Nordic collaborations
During the Lübeck Meetings, German sales company Global Screen announced further deals on the 3D animation feature Richard The Stork to CIS (Cinemax), Middle East (Gulf), Portugal (Lusomundo) and India/Philippines (Pictureworks), following previous sales concluded in Cannes with China (Bona Entertainment), South Korea (Woo Sung Entertainment) and Poland (Kino Swiat). Producer Kristine Knudsen of Berlin/Bergen-based Knudsen & Streuber Medienmanufaktur told Screen Daily that the production with Germany's Ulysses Filmproduktion will be ready for delivery in late 2015.
Another of Hamburg-based Ulysses Filmproduktion's animated features, Niko 2 - Little Brother, Big Trouble, the sequel to the internationally successful Niko & The Way to the Stars, has been picked up by Metrodome (UK), Intersonic/Abbey Road (Czech Republic/Slovenia/Hungary), Flame (China) and Babilla cine (Colombia).
In a case study at the Lübeck Meetings' co-production and distribution forum, Ulysses' Emely Christians said that the first Niko film was sold to 110 countries and released in more than 25 territories.
Antboy 2 in preparation
Meanwhile, producer Verena Gräfe-Höft of Hamburg-based Juna Film revealed that she is going to be the German co-producer for the sequel of Nimbus Film's current box-office hit Antboy which took over $1.7m at the Danish box office in its first four weeks of release last month.
¨Whilst the first film was set in the autumn, the sequel will take place in the winter and will have a new set of villains including a girl called The Red Fury,¨ Nimbus Film's Eva Jacobsen said. Part of the film will be shot in Hamburg where the production team found some locations which look as if they came from a graphic novel.
¨ I like the combination of a children's film with a super hero movie and think it will work in Scandinavia, Germany and elsewhere,¨ Gräfe-Höft said about her first foray into children's films.
Antboy- which premiered in Toronto in September - and its sequel are both being released in Germany by MFA+ Filmdistribution.
Gräfe-Höft is also a co-producer on the DOX:LAB project Not At Home by Katja Adomeit and Shahrbanoo Sadat, which has its world premiere at CPH:DOX on 12 November.
The 66-minute film consists of two parallel narratives set in an asylum centre in Germany and a family home in Kabul shortly before the international troops' withdrawal from Afghanistan.
Not At Home is one of 11 projects in the MEDIA-supported DOX:LAB cross-cultural programme for invited film-makers from the EU and non-EU countries. Another of the 2012/13 line-up, Winter/Miracle by Zeljka Suková and Gustavo Beck, won the Best Central and East European Film Award in Jihlava last week.
DOX:LAB's 2013/14 selection, who will present their films at CPH:DOX in a year'stime, include such directors as Kenya's Hawa Essuman, Singapore's Sherman Ong, Mexico's Matias Meyer, and Poland's Viktoria Szymanska.
In addition, Norwegian producer Jan Eirik Langøen of Moskus Film reported that his production of Journey To The Christmas Star was being released by Polyband in Germany on November 14 on 255 prints, the biggest opening for a Norwegian film in Germany.
The €4.5m family film, which was shown at the Nordic Film Days, is being handled internationally by Sola Media and has been sold to 113 countries worldwide, according to Langøen.
Finally, Dutch producer Leontine Petit of Lemming Film told Screen Daily in Lübeck that her company's remake of the German family film Es ist ein Elch entsprungen will be released this month in the Netherlands by A Film Benelux. Ironically, this remake has been sold back to Germany for release there on DVD.