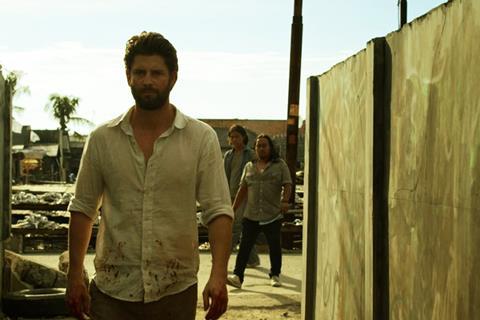 Los Angeles-based Premiere Entertainment Group (PEG) is at this week's American Film Market touting worldwide rights excluding select Asian territories to revenge action film Message Man starring Paul O'Brien and Verdi Solaiman.
The film by Australia's Rhythmic Films and Indonesia's HJ Productions from Indonesia centres on a former hitman whose violent past catches up with him and sends him on a killing spree to even a score.
Corey Pearson made his feature directorial debut from his own screenplay, and served as producer. Henry Ambarita and Arya Widharta from HJ Productions, and Head Gear Films' Compton Ross and Phil Hunt are executive producers.
Message Man shot entirely in Indonesia and post took place in Australia. SlateVFX, whose credits include Hacksaw Ridge, worked on the film.
"We are extremely proud to bring Message Man to AFM," PEG's vice-president of development and acquisitions Carlos Rincon said. "The film has a great story, world-class acting, high production value and is loaded with non-stop action and ultra violence. Corey is a talented filmmaker who will undoubtedly be entertaining audiences for many years to come."
"I wanted to make an action film that was honest and character driven and I think Message Man offers that," Pearson said. "From the talented performances of both the eastern and western cast through to the truthful depiction of the brutality and fighting, Message Man has a unique edge to it."
PEG president and CEO Elias Axume and Rincon negotiated the deal with Rhythmic Films founder Pearson.