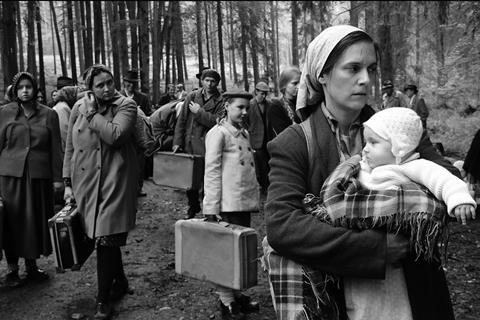 US sales and distribution company Princ Films has acquired worldwide rights, excluding the US and Canada, to Czech director Bohdan Sláma's drama Shadow Country, which it is introducing to buyers at AFM.
The black-and-white drama is set in a fictional village on the Czech-Austrian border and spans the 1930s to 1950s, inspired by true events of a genocide that occurred due to fallout between German citizens and Czechs who collaborated with the Nazi regime during the war.
It stars an ensemble cast of top acting Czech talent including Stanislav Majer, Magdaléna Borová and Csongor Kassai.
The feature was showcased as part of the BFI London Film Festival's streaming selection and also played at the Warsaw Film Festival in October.
It marks Sláma's seventh feature after award-winning titles including The Wild Bees, which won the Tiger Award at Rotterdam in 2002; Something Like Happiness, which was awarded the Golden Seashell for best film at San Sebastian in 2005; and Ice Mother, which won best screenplay at Tribeca in 2017.
Shadow Country is produced by Martin Ruzicka and Jindrich Motyl at Czech production company Luminar Film.
"We recount a story of the loss of sanity and the rise of ideology at the expense of rationality," said Sláma. "I was really shaken to the core by this story of a particular community whose once trifling neighbourly conflicts gradually escalated into a vast injustice, vengeance, and indeed genocide."
Judd Taylor, director of acquisitions at Princ Films, said: "I was immediately drawn in to a part of history audiences know little about, that clearly relates to the division seen around the world today."
Other titles on Princ Films' AFM slate include Yuji Shimomura's Crazy Samurai Musashi, which played at Fantasia Film Festival in August.