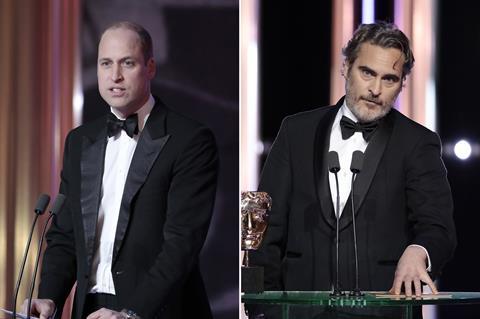 President of Bafta Prince William and best actor winner Joaquin Phoenix have condemned the lack of diversity among nominees in their speeches at the 2020 ceremony.
In a rare address at Bafta, Prince William said: "We find ourselves talking again about the need to do more to address diversity in the sector. That cannot be right in this day and age. I know Pippa [Harris, Bafta chair] and Amanda [Berry, Bafta CEO] share that frustration.
"Bafta take this issue seriously, and following this year's nominations have launched a full review… to ensure the opportunities are available to everyone."
His words were echoed in more severe terms by Phoenix in his speech after receiving the best actor award for Joker.
"I feel very honoured and privileged to be here tonight," Phoenix said. "But I have to say that I also feel conflicted because so many of my fellow actors that are deserving don't have that same privilege.
"I think that we send a very clear message to people of colour that you're not welcome here. I think that's the message that we're sending to people that have contributed so much to our medium and our industry and in ways that we benefit from.
"I don't think anybody wants a handout or preferential treatment; people just want to be acknowledged, appreciated and respected for their work," he said.
"This is not a self-righteous condemnation. I have not done everything in my power to ensure the sets I work on are inclusive," Phoenix continued. "We have to do the hard work to truly understand systemic racism.
"It is the obligation of the people that have created and perpetuated and benefit from a system of oppression to be the ones that dismantle it. That's on us."
Bong Joon Ho, winner of best original screenplay and best foreign-language film for Parasite, also addressed the issue in his press conference following the ceremony.
"I'm not sure if I'm contributing to the issue of diversity because I've been creating films for 20 years," Bong said. "It's a huge honour to be invited to these events. From various efforts, I think naturally we will arrive at a day where we have diversity in the industry."
Bong also joked how the structure of the Royal Albert Hall mirrored that of the house in his South Korean dark comedy.
"Parasite is a movie about staircases – it's about a poor man who wanted to go up the stairs but ends going down the stairs," he said. "In any country you have rich and poor, and between classes you have very steep staircases. Going up and down the staircases of Royal Albert Hall this evening is making me sweat."
Royal jokes
Several presenters and winners made memorable speeches, in a change from the softer tone of previous years.
Margot Robbie accepted the best supporting actor prize on behalf of Brad Pitt, and read a prepared speech from the actor.
"He's going to name it Harry 'cos he's really excited about bringing it back to the States with him," Robbie read as Pitt referenced the recent separation from the Royal family by Prince Harry and Meghan Markle.
In presenting the best director award, Rebel Wilson said: "It's great to be here at the Royal Andrew—" and corrected herself to say "Royal Albert Hall" in reference to the Queen's second-eldest son, who has been embroiled in controversy over his friendship with the late convicted sex offender Jeffrey Epstein.
Accepting the award for best adapted screenplay, Taika Waititi took aim at colonialism, saying: "This is very cool for me, coming from the colonies. We know it's been a hard week for you guys. It's very nice to take a little bit of your gold back home… where it belongs."
1917 was the big winner on the night with seven awards, with three for Joker and two for Parasite.