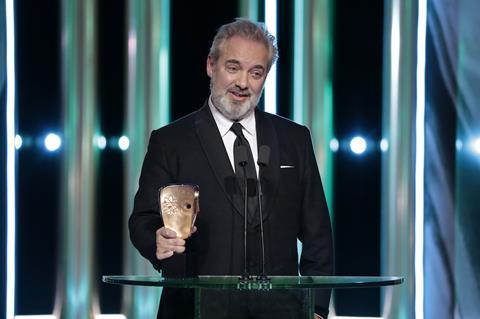 Sam Mendes' war epic 1917 swept the board at the 73rd Bafta Film Awards, winning seven of its nine nominations including best film.
The First World War thriller gave Mendes his first ever Bafta for directing while Roger Deakins secured his fifth for cinematography, having previously won in 2018 for his work on Blade Runner 2049.
1917 also won outstanding British film of the year (the first award handed out on the night) as well as Baftas for production design, sound, and special visual effects.
It seems to pave the way for the Oscars on February 9. However, for the past five years, the Bafta best film winner has not gone on to win best picture at the Academy Awards, since 12 Years A Slave in 2014.
Joker had gone into the night leading the pack with 11 nominations and won three including best actor for Joaquin Phoenix. Accepting the award, Phoenix took the opportunity to highlight the lack of diversity in this year's nominations, which saw Bafta come under fire (all 20 acting nominees were white, and no female directors were nominated for the seventh consecutive year).
"I feel very honoured and privileged to be here tonight," he told the audience. "But I have to say that I also feel conflicted because so many of my fellow actors that are deserving don't have that same privilege.
"I think that we send a very clear message to people of colour that you're not welcome here. I think that's the message that we're sending to people that have contributed so much to our medium and our industry and in ways that we benefit from.
"I think that we have to really do the hard work to truly understand systemic racism. I think that it is the obligation of the people that have created and perpetuate and benefit from a system of oppression to be the ones that dismantle it. So that's on us."
The drama also saw Hildur Guðnadóttir win for original music and Shayna Markowitz take Bafta's very first casting award, following a campaign last year to recognise that arm of the film industry.
The other acting awards saw Brad Pitt win for his supporting role in Once Upon A Time… In Hollywood. Despite receiving 10 nominations, this was the only win for the Quentin Tarantino film. Pitt was not in attendance but joked about Brexit in a speech read by co-star Margot Robbie, which said: "Hey, Britain. Heard you just became single. Welcome to the club. Wishing you the best with the divorce settlement."
Renée Zellweger won her second Bafta for her leading role as Judy Garland in biopic Judy, having won the supporting actress prize in 2004 for Cold Mountain. Laura Dern won best supporting actress for her performance in Marriage Story – the only win out of five nominations for Noah Baumbach's Netflix drama.
Ahead of the Oscars, the four acting winners have now won all major precursors: Critics Choice, Golden Globe, SAG and BAFTA awards. It is also the first time since 1977 that all four of the Bafta acting awards have been won by Americans.
Talkshow presenter Graham Norton took on hosting duties for the first time but it was actress Rebel Wilson who was widely acknowledged as giving the best speech of the night, while presenting best director. After stating that the black half of her dress signified the funeral she had attended for critical bomb Cats, she highlighted the all-male category.
"I'm not sure if everyone here is across the controversy but this year there has been a distinct lack of nominations for felines," she said. "Even in this best director "CAT-egory," no felines have been nominated… I look at the exceptional, daring talent nominated in this category and I don't think I could do what they do. Honestly, I just done have the balls."
Even spread
It was a fairly even spread across the rest of the categories, with several films winning just one Bafta, while the likes of The Irishman (10 nominations), The Two Popes (5), Rocketman (4) and Star Wars: The Rise Of Skywalker (3) left empty-handed.
The only other feature to win more than one award was South Korean phenomenon Parasite. It won best film not the in English language and best screenplay, which director Bong Joon Ho shared with co-writer Jin Won Han. It echoes last night's original screenplay win from the Writers Guild of America (WGA).
Other wins saw writer-director Taika Waititi win best adapted screenplay for Jojo Rabbit, another WGA winner. "This is very, very cool for me, coming from the colonies," said Waititi, before referencing Brexit. "We know it's been a hard week for you guys. It's been very nice to take a bit of your gold back home where it belongs."
Greta Gerwig's Little Women won its single award for the costume design of Jacqueline Durran, celebrating her third win following Anna Karenina in 2013 and Vera Drake in 2005. Fox News drama Bombshell picked up the Bafta for make up and hair.
Le Mans '66 (aka Ford V Ferarri) won best editing for the work of Andrew Buckland and Michael McCusker.
Klaus took home the Bafta for best animated feature. Directed by Sergio Pablos and Jinko Gotoh, the Christmas story marks the first original animated feature from streaming giant Netflix and beat Disney heavyweights Frozen II and Toy Story 4 as well as Aardman Animations' Shaun The Sheep Movie: Farmageddon.
Syrian war film For Sama won best documentary. Co-director Waad al-Kateab dedicated the award to "the great Syrian people who are still suffering". She added: "As we're speaking now, the situation in Syria is still so bad… there's shelling and bombing on over 3.5 million civilians. These people… should hear your voice now. They should hear that Britain, as a country, as a great country, will not let that happen again."
British drama Bait won outstanding debut for writer-director Mark Jenkin and producers Linn Waite and Kate Byers. The low-budget film was previously named best British film of the year at the 2019 Screen Awards.
The Rising Star award, the only prize voted for by the public, was won by Micheal Ward, who has risen to fame with roles in Rapman's urban drama Blue Story and Netflix series Top Boy. Accepting the award for the only category that represented a diverse acting field, Ward said: "To people that are watching at home, looking at me…you have to see the opportunities."
As previously announced, Star Wars producer and Lucasfilm president Kathleen Kennedy was honoured with a Bafta Fellowship, the body's highest accolade, for her outstanding and exceptional contribution to the industry. Across a 40-year career, Kennedy has produced films that have won 25 Oscars as well as 119 Bafta nominations and 27 wins.
Also previously announced, actor and filmmaker Andy Serkis was presented with the special Bafta award for Outstanding British Contribution to Cinema. He is best known for his pioneering performance-capture work, portraying Gollum in The Lord Of The Rings and Hobbit films as well as the lead role of Caesar in the Planet Of The Apes franchise. Ian McKellan, who played Gandalf opposite Serkis' Gollum, was on hand to present the award.