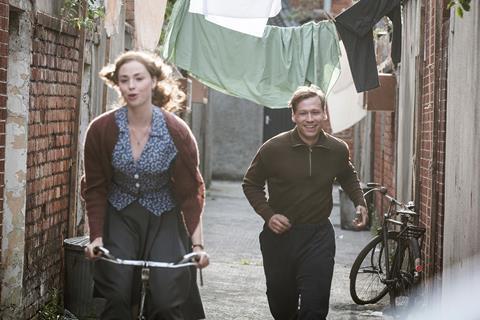 The first edition of Filmfest München's Cine CoPro Conference opened this week with a focus on the opportunities for co-production between the UK and Germany.
The conference first presented a guide to funding opportunities offered by the UK's BFI, the German Federal Film Board (FFA) and its DFFF cash rebate scheme as well as the Bavarian regional FFF Bayern fund.
Then the conference heard from UK and German producers who have worked on co-productions between the two countries.
Zoranna Piggott, UK producer of Thomas Clay's 2019 film Fanny Lye Deliver'd, a co-production with Essential Filmproduktion, said Germany and the UK are naturally compatible as co-production partners. "I find Germany a really co-production- friendly country. Co-productions between the two countries are fairly straightforward in that there are a set of rules, so just follow the rules!"
Regine Bouchehri of Leipzig-based Looks Film, which is a German minority co-producer of Eva Weber's documentary Merkel, added: "It's always good to have an understanding about the co-producer's funding system, the sources of financing one can bring in and the strings attached because there are always strings attached with money."
Some filmmakers are better suited to co-productions than others, she said. "Sometimes you have a director who is used to working with people from other countries and having their own international network," she said.
Bouchehri pointed out Looks Film's production of Sergei Loznitsa's The Natural History Of Destruction which premiered in Cannes last month, "is perfect for a co-production: he is born in Ukraine, lives in Berlin, his favourite editor is in Lithuania, his favourite colour grader in Romania, and the sound studio in The Netherlands. But not all directors think that way."
Bouchehri also spoke about the importance of clearly defining roles on a co-production. "You should divide the tasks up from the very beginning: to say 'we are responsible for the shooting or the archive material' or 'take over part of the postproduction,' so that you have a clear split."
Bouchehri said co-productions are much if easier if they adopt a common currency as exchange rates do not need to be integrated into a budget.
She also acknowleged that obtaining work visas and shipping items from the UK, post Brexit, has added a layer of complexity. "We are working with a UK director on a film [for which the production is buidling] boxes all around Ukraine and across Europe for people to come in and tell their stories about the war in Ukraine. The director is working with a carpenter in [the UK] but he is not allowed to come to Germany to build the box there - he would need a visa, but that takes too much time."
Robert Marciniak of Munich-based Lieblingsfilm recalled his first co-production with the UK with Chris Curling's Zephyr Films on Marcus H. Rosenmüller's English- language debut The Keeper (Trautmann), about the German Manchester City goalkeeper. He stressed the importance of doing your homework. "Make sure that you have partners in Germany who have the German financing onboard so that you are taken more seriously in finding a UK co-producer," he said.
Good lawyers are also a must. "The [legal] systems are completely different. I have never had so many pages in the co-production agreement."
A relevant story is also important too, he said. "For us, it was very helpful that we had a story which fitted to the UK and was very well known there."