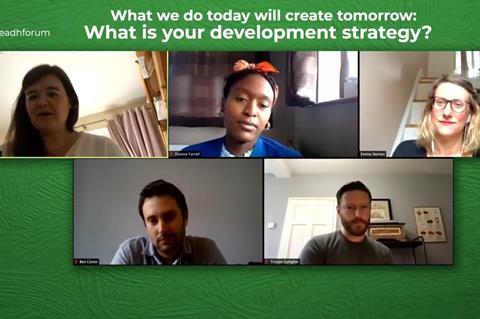 "Build your production company into a brand", was one of the key messages to emerge from an online conversation between key figures in the UK and Irish film and TV industries as part of this year's Fleadh Forum series at the Galway Film Fleadh this week.
"We're looking for strong films from an eclectic, diverse range of filmmakers," said Ben Coren, head of development at the UK's Film 4, in the webinar called 'What We Do Today Will Create Our Tomorrow: What is Your Development Strategy?' "That's the kind of model we're working to in any given year, a range of exciting low-budget features alongside some higher budget stuff with more established filmmakers. Part of the Channel 4 remit is to deal with underrepresented voices. We talk a lot about diverse filmmakers in terms of backgrounds."
Chaired by Sarah Dillon, development manager of the west of Ireland's Wrap Fund, the industry event explored development strategies for companies as they work with talent, find audiences and tell the stories they want to tell.
Tristan Goligher of The Bureau, whose credits include Weekend and 45 Years, said he believed it is very important for emerging and evolving companies to consider who they are as a brand.
"Historically, The Bureau has been seen as a production company that's prepared to back new talent and debut filmmakers," said Goligher. "It produced Asif Kapadia's first feature [The Warrior] and Andrew Haigh's first feature [The Weekend]. One of the key elements of our strategy and development is about maintaining those relationships and developing good long-term relationships with those filmmakers."
The Bureau also produced Peter Mackie Burns' second feature Rialto which is screening in the Fleadh. It also produced his first feature, Daphne.
"One of the key things for us is identifying talent that we really want to work with, that we believe in," Goligher continued. "Ultimately, the goal is that we'll be making their third or fourth or fifth feature films."
Like many other production companies, The Bureau is now developing TV as well as feature projects. "The types of stories we'd love to tell often work very successfully in that format," Goligher explained.
Fresh from the success of the TV adaptation of Sally Rooney's novel Normal People, and with the author's Conversations With Friends in development, Emma Norton, executive producer for Element Pictures, said growing demand for content has created the opportunity to foster a wider variety of filmmakers.
"Three or four years ago, we started to really invest in our TV slate and Normal People recently has been the culmination of that work," she said. "One of the things about the way the TV world has gone is that there's such a huge demand for hundreds of stories. That's opening the door for the people that we can work with and successfully produce.
"We have talked about strategy over the years. We really interrogate what we're doing and why we're doing it and who we're working with. Many things inform those conversations. Our identity as a production company is informed by a large pool of talent that we've made a lot of effort to familiarise ourselves with as a group, and to find the people within that that we love working with."
The speakers agreed the global events of the past few months, both the impact of the ongoing Covid-19 pandemic and the explosion of the anti-racism movement has created a rich and interesting time for storytellers.
"Ideas don't come out of a vacuum. People are going to be influenced by what's happening in the world right now. That will have an impact," said Dionna Farrell, development executive at BBC Films. "From our perspective, we still need to maintain the variety of our slate and continue to do lots of different things and support lots of different types of stories and filmmakers to get made. I feel quite optimistic about all of that."
You learn from success, said Element's Norton.
"Every project we make, we learn a huge amount from, and at the moment, I'm processing all the things we learned from Normal People in order to apply them to the next thing, which will be different," says Norton. "Conversations With Friends is very different. The constant appeal of truthful human stories seems to me to be one of the only things that can ride the wave of a very, very chaotic world. My focus is on finding stories that can withstand that in terms of just being classic human stories, well told."
The Fleadh Forum is presented by the Galway Film Fair and the WRAP Fund with support from Screen Ireland, the Galway Film Centre and Screen Skills Ireland with Creative Europe and in association with ACE Producers.