Cohen Media Group president takes the reins at the UK broadcaster following David Kosse's appointment at STX.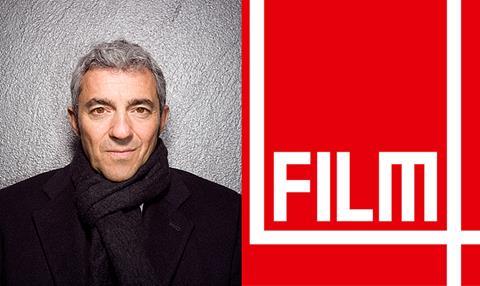 Cohen Media Group president Daniel Battsek is to take the reins at Film4 as its new director, UK broadcaster Channel 4 has confirmed.
As previously revealed by Screen, the former Miramax Films president emerged as the clear favourite for the job following the departure of David Kosse who is leaving to join US mini-studio STX Entertainment as president of international.
Battsek will join Film4 in July, relocating to the UK from New York after fulfilling his contract as president of distributor Cohen Media Group, where he has overseen the acquisition and release of projects including back-to-back Oscar nominees Timbuktu and Mustang, as well as a development and production slate of films that includes John Williams' hit novel Stoner, a co-production with Film4.
The handover is understood to have been in the works for a matter of months with outgoing head Kosse previously telling Screen that a "smooth" succession plan had been put in place by himself and Channel 4 boss David Abraham.
Kosse will continue working for Film4 during the transition period on a consultancy basis until October.
Logical successor
While Film4 is understood to have held early discussions with a handful of potential candidates, Battsek quickly emerged as the favourite.
He represents a logical successor to former Universal executive Kosse who - during his tenure at Film4 - implemented a successful campaign to sharpen the division's commercial instincts, increase its budget and ink key deals with UK and US companies and creatives.
Industry veteran Battsek, the former president of Miramax Films and National Geographic Films, arrives with a distinguished CV comprising leadership roles at key UK and US production and distribution outfits.
Between 1985 and 1991, he was managing director at Palace Pictures before joining Disney where he rose to senior vice president, BVI (UK).
In 2005, he was named president of Miramax Films, after Harvey and Bob Weinstein left the company.
Projects he greenlit and/or acquired there included Oscar winners The Queen, No Country For Old Men and There Will Be Blood.
In 2010, he was announced as president of National Geographic Films and he became president of Cohen Media Group in 2012, during which time the distributor has built a substantial portfolio of European films.
Battsek had been in the frame for key UK public funding posts in the past, including the BFI Film Fund top job in 2012 and the top position at Film4 in 2014.
Increased spend
The well-travelled Battsek will inherit the increased spend announced by Abraham and Kosse in February 2016 of £25m for the year, with the ambition of maintaining similar increased levels of funding in future years.
Under his leadership, Film4 has said it will continue to seek out new partnerships like those announced with Fox Searchlight and FP Films in February, which allow the company to take a greater stake in certain projects, with a view to seeing more of the returns flowing back to Film4 for investment in the company's future slate.
Busy development slate
Battsek inherits a development slate which includes new work from Lenny Abrahamson, Yorgos Lanthimos, Andrew Haigh, Steve McQueen, Martin McDonagh, Clio Barnard, Bart Layton, Garth Davis and Mike Leigh, as well as completed or near completed films from Andrea Arnold, Ben Wheatley, Ang Lee, Paddy Considine, Susanna White, John Cameron Mitchell, theatre director Benedict Andrews, Danny Boyle and newcomers Toby Macdonald and Michael Pearce.
Channel 4 CEO David Abraham said: "Daniel Battsek's passion for independent, filmmaker driven cinema, and experience in film production, development and distribution at the highest level in both the US and UK markets, are second to none. He's a perfect fit for the Film4 brand. We're thrilled to bring this talented British executive back to the UK.
"As demonstrated by our record-breaking year at both the Oscars and the BAFTAs, Daniel will inherit a Film4 business in fine creative and commercial health from David Kosse. We're sad he couldn't have been with us longer but he's had an incredible impact in the time he has led the division.
"Both the exciting upcoming slate and the increased funding for original film we announced earlier this year are testament to the successful strategy implemented by David. I'm delighted that he will be working alongside Daniel on a smooth transition over the summer and ensuring that it is business as usual for Film4 over this period."
Battsek: "Coming full circle"
"I am hugely honoured to have been offered this opportunity," said Battsek. "My career began with so many of Film4's early productions and I have retained strong ties with British filmmakers throughout my time in the US.
"Joining Film4 feels almost like coming full circle. I look forward to returning to the UK and putting the experience I've gained on both sides of the Atlantic to good use."
Kosse said: "Film4 is a unique organisation and a very special brand and it was a difficult decision to leave, but joining STX at this stage is an opportunity that I couldn't pass up.
"Over almost two years, I'm incredibly proud to have put in place a new strategy for Film4 which has boosted funding for the film industry to a record level and to have introduced an exciting new slate of high quality productions and developments with a diverse group of filmmakers.
"David Abraham and the Channel 4 leadership team have been fantastic partners since day one and I look forward to continuing to work with them over the coming months."