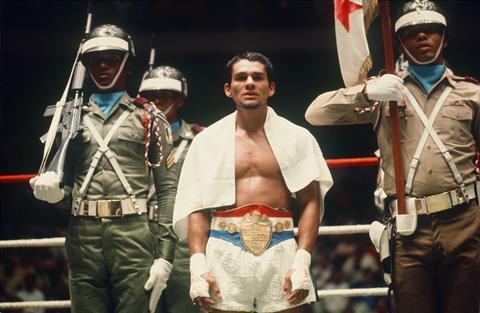 Protagonist Pictures is launching international sales at virtual MIPTV this week (April 12-16) on premium boxing docu-series The Kings from the producers of Senna and Maradona.
Producers James Gay-Rees (Amy, Senna), Paul Martin (Maradona) and Fiona Neilson (Supersonic and Coldplay: A Head Full Of Dreams) teamed up on the story of the fierce rivalry between 'The Four Kings' – boxing legends Sugar Ray Leonard, Roberto 'Hands Of Stone' Duran, Thomas 'Hit Man' Hearns, and the late 'Marvelous' Marvin Hagler.
Protagonist will show exclusive footage to buyers. The series chronicles how the men collectively stepped into the void left by the retirement of Muhammad Ali and overcame personal hardship to dominate their weight divisions in the 1980s and cement their status as all-time greats.
Mat Whitecross (Supersonic, Coldplay: A Head Full Of Dreams) directed the series. He made his debut on The Road To Guantánamo, which he co-directed with Michael Winterbottom and garnered the Silver Bear for best director at the 2006 Berlinale.
As previously announced, The Kings will debut on Showtime in the US on June 6 and is produced for Showtime Sports Documentary Films by Box To Box Film in association with Ingenious Media.
Protagonist Pictures CEO Dave Bishop said: "Set against the backdrop of one of the most turbulent and fascinating periods of modern US history, The Kings is a must-watch docu-series for both serious boxing fans and those completely unfamiliar with the sport. We can't wait to discuss and share exclusive footage from this incredible show with buyers from around the world."
"The Kings is the story not only of these four phenomenal fighters, but also an exploration of boxing itself – in all its dizzying highs and controversial lows," added Whitecross. "The Four Kings' lives are in many ways emblematic of that era. I hope we've created a show that honours the legacy of these incredible men."