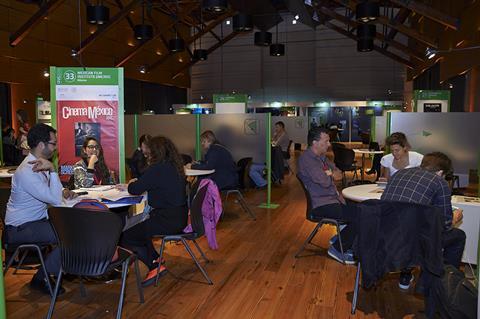 Puerto Rico's economic crisis informed one of the genre projects under the microscope at Blood Window's second Beyond The Window pitch session at Ventana Sur on Wednesday (November 29).
Satoru, a J-Horror homage by Ray Figueroa, centres on two girls who discover a way to invoke a spirit through the dark web that can answer any question at a price.
When the youngsters realise they are cursed, they must race through the night in San Juan and find someone to pass the curse on to.
"Puerto Rico is a country in economic crisis created by the upper classes," Figueroa said, "and the issue of who is going to pay the price is an important one. So who is going to pay the price here?"
Figueroa said he has secured 40% of the $300,000 budget and is looking for a co-production partner and a distributor to enable him to complete development and move to production.
The Containment (La Contención) producer Yossy Zagha from Mexico explained his $1.6m English-language horror story about a possessed girl will shoot in Mexico and a US location for exteriors. Zagha and his director brother Jack Zagha have scouted a US island community in the state of Virginia and are on the look-out for a co-production partner or sales agent.
The project plays with tried-and-tested tropes – a toxic mother-daughter relationship, good vs evil – and bears similarities to The Babadook, Jennifer Kent's influential Australian horror that has been cited by at least one other filmmaker at the sessions this week.
The projects were among a group of nine from Latin America that included: producer Pilar Diaz's horror-thriller Forest Spirits (Ngen Mawida, Chile); director Lucila Las Heras and producer Ariana Spenza's fantasy drama The Muglur (El Muglur, Argentina-Mexico); and director Michael Miles Garcia and producer Carla Pasten Perez with thriller 6400 Asa (Chile).
Projects included: thriller Expansivas (Argentina-Spain) with producer Florencia Franco; Diana Moro with dark comedy Marlon Brando, Whiskey, Zombies And Other Apocalypses (Marlon Brando, Whiskey, Zumbis e Outros Apocalipses Brazil); and Ian A. Maffioletti and Mariah Riberio Benaglia's El Brazo (Brazil).
Four Spanish scripts presented through the Spanish General Society of Authors and Publishers' screenwriting lab (SGAE): sci-fi Eve And The Astronaut (Eva y el Astronauta) by Jorge Blas; action-thriller Guests (Los Invitados) from Carla Guimarães; horror Shrinking (Menguante) by Pedro Pablo Picazo; and Elio Quiroga's action-thriller Keep It In The Family (Todo Queda En Casa).