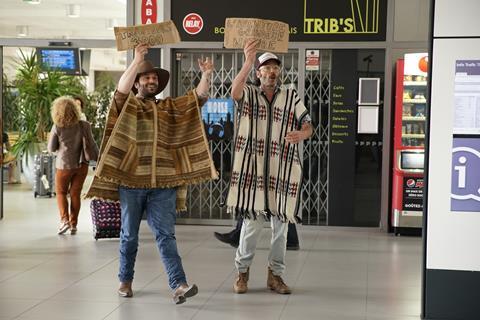 Pulsar Content is set to launch sales on French director Edouard Deluc's horse trekking comedy Wilderness Therapy at the virtual Pre-Cannes Screenings next week.
Pio Marmaï and Philippe Rebbot star as two down-on-their-luck friends who decide to set up a company running horse trekking tours in the French Pyrenees mountains, to turn around their fortunes. Their promise of a restorative trip connecting participants with nature, silence and adventure does not pan out as expected.
The film is now shooting in the Pyrenees. Paris-based sales company Pulsar Content has released a first image and will unveil a teaser during the Pre-Cannes screenings.
It is Deluc's third feature after Gauguin: Voyage To Tahiti, starring Vincent Cassel as the artist, and travel comedy Welcome to Argentina about two French brothers who head to the country for a cousin's wedding.
Marmaï is also soon to be seen in Netflix acquisition How I Became A Super Hero as well as Catherine Corsini's Palme d'Or contender The Divide. Rebbot is a prolific comedy actor with more than 100 credits to his name. Other cast members include Camille Chamoux and Pablo Pauly.
The film is produced by Emmanuel Agneray at French production company Bizibi, whose previous credits include That Lovely Girl and Alice And The Mayor. Apollo Films have taken French rights.
Other titles on Pulsar's pre-Cannes slate include the previously announced project Lady Nazca. The company is also handling sales on Cannes Critics' Week title Olga but will not be screening the film in the virtual event as per the rules of the Cannes Film Festival and the parallel section.