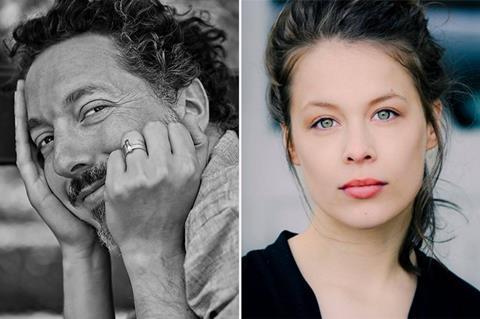 Paula Beer and Guillaume Gallienne will co-star in the upcoming English-language biopic Lady Nazca about German mathematician Maria Reiche who pioneered research into Peru's mysterious Nazca lines in the 1940s, and then fought for their preservation throughout her life.
Paris-based sales company Pulsar Content has secured world sales on the drama and will introduce the project to the market at the European Film Market (March 1-5) next week.
Principal photography will begin in summer 2021 in Peru.
Germany's Beer, who scooped best actress at the 2020 Berlinale for her performance in Undine, will star as Reiche. French actor Gallienne, whose recent credits include The French Dispatch and Call My Agent!, co-stars as Reiche's co-archaeologist Paul Kosok. German actress Alice Dwyer is also attached in the role of Reiche's partner Amy.
Spanning a 50 square kilometre area in the Nazca Desert in southern Peru, the Nazca lines are a mysterious group of geoglyphs, forming geometric designs and the shapes of birds and animals when viewed from the sky.
Reiche first moved to Peru in the 1930s to work as a governess after studying mathematics and languages at university in her native city of Dresden. She became fascinated by the lines after a trip to the Nazca Desert in the early 1940s and made it her life's mission to research their meaning and protect them. This passion brought with it trouble and danger but also give her a sense of peace.
Swiss actor and director Damien Dorsaz, who has been passionate about Reiche's story for 20 years, will make his fiction feature directorial debut on the film. He previously explored her life in a documentary in 2006.
"The last image of the movie shows Maria's silhouette against the falling night, suspended between the earth's crust and the starry sky. Lady Nazca raises a fundamental question: What do we do with our life? Can we step out of our comfort zone? Do we have the courage to? The desire to?," Dorsaz says of his protagonist.
The film is produced by Matthieu Zeller at Paris-based Octopolis, Oliver Damian at Berlin-based 27 Films Production and Xavier Grin at PS Productions in Switzerland. Berlin-based Tobis Film is also on board as co-producer and German distributor. Memento Films has taken French rights.
"Lady Nazca is the conclusion of a 20 years journey for Damien Dorsaz," said Zeller.
Pulsar Content co-founders Gilles Sousa and Marie Garrett believe the inspirational story and geographically stunning backdrop will appeal to international audiences as the world comes out of a period of lockdowns and restrictions.
"Lady Nazca will take us to the heart of this UNESCO world heritage site but above all to the discovery of this strong and fascinating woman who dedicated her genius to archaeology and this unknown civilization," commented Pulsar Content CEO Sousa.