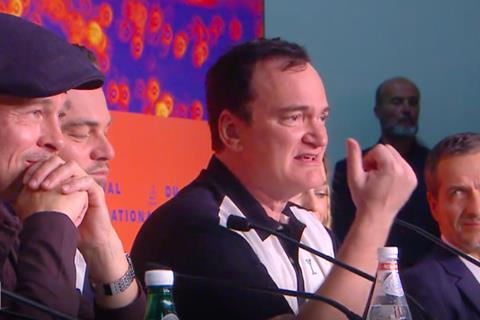 Quentin Tarantino and his Once Upon A Time… In Hollywood cast Leonardo DiCaprio, Brad Pitt and Margot Robbie faced international reporters at an occasionally awkward press conference on Wednesday morning at the Cannes Film Festival.
While for the most part the press conference was a good-humoured affair, Tarantino did bristle when a reporter asked whether he had under-served both Margot Robbie and Sharon Tate, who she portrays, by giving the actress so few lines in the film. Tarantino replied tartly, "I just reject your hypothesis," before Robbie took over.
"I think the moments I was on screen gave a moment to honour Sharon," she said. "I think the tragedy was the loss of innocence. To show the wonderful sides of her could be done without speaking. I did feel like I got a lot of time to explore the character without dialogue, which is an interesting thing." She previously said she saw her character as "a ray of light" in the film. "Quentin said to me she's the heartbeat of the story."
The director also side-stepped a question about Roman Polanski, who appears briefly in the film played by Polish actor Rafal Zawierucha (the director was married to Tate when she was murdered by the Manson family in August 1969).
"I've met him [Polanski] a couple of times," Tarantino said. "I'm a fan of Roman Polanski's work, but in particular Rosemary's Baby, which I like that a lot." When asked if he'd spoken to the director before making the film, Tarantino replied "no".
Tarantino said that the film, his ninth so far, could be seen to encapsulate his career to date. "It wasn't meant to be ridiculously self-conscious but there is a bit of a summing up of certain things[in my career]," he said. "One of the first people to read the script was my first AD, William Clark, he's been my first AD since Jackie Brown. After reading [the script] he said, 'Damn, number nine is like all eight of them put together' and I haven't really thought about it like that, but there were little things."
When asked about "taking stock" of his career, Tarantino added: "My taking stock is different now… because I just got married six months ago [to Daniella Pick, who was sitting in the front row]. I've never done that before. Now I know why. I was waiting for the perfect girl."
Brad Pitt, who plays stuntman Cliff Booth in the film, addressed a question about "rage against women" and the film's depiction of the Manson family. "I don't see it as a rage against individuals, but a rage against innocence. When the Manson murders occurred, there was a free love movement, there were new ideas out there, and cinema was being recalibrated. When that event happened – the tragic loss of Sharon and others – what scared many was a sobering look at the dark side of human nature. That pivotal moment was a real loss of innocence, and that's what the film addresses."
Tarantino added that public are still "fascinated" by Charles Manson. "It seems unfathomable. I've done a lot of research on it. How was he was able to get these girls and young boys to cement to him seems unfathomable. The more you learn about it… It doesn't make it any clearer. It makes it more obscure."
Once Upon A Time… In Hollywood is released via Sony in the US on July 26 and August 14 in the UK.