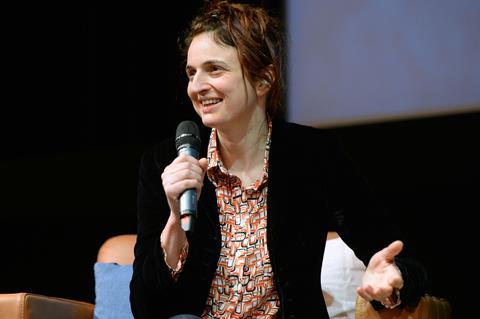 Italian director Alice Rohrwacher has described what she called the "genocide" of culture in Italy during the Silvio Berlusconi era and how even the most talented filmmakers now struggle as a result to establish a connection with their audiences.
"Right now, we are paying [for] this genocide," said Rohrwacher, talking to Screen ahead of her masterclass at the Doha Film Institute's talent development programme Qumra in Qatar this week.
"At the moment [genocide] arrives, people don't realise," she said. "They ask themselves how this was possible and why they did nothing. The situation we have now is so confused… it is not just Berlusconi. It is a complex situation but it is always about what we do with our past. We escape from everything that is knowledge and we just want to take the form of the past."
Rohrwacher expressed her dismay at the way rural and working-class history were trivialised in the Italian popular culture during the Berlusconi years.
"We had a very complex past. Let's say that from the point of view of the peasants and the workers, it was a past full of pain but also full of knowledge," the director said.
Rohrwacher addressed this corruption and distortion of the past by featuring a glossy but grotesque TV show in which Italian farmers compete to show they are the most authentic in The Wonders, her Cannes Grand Prix winner in 2014.
Rohrwacher's third film, Happy As Lazzaro, won the best screenplay award at Cannes in 2018.
"I make movies for the cinema"
Happy As Lazzaro may have sold to Netflix for the US, but the Italian remains adamant cinemas are still the best places in which to see movies. "I make movies for cinemas," she declared in her masterclass. "They are a little bit more boring on a little screen. I hope people see them in cinemas because they are more beautiful. We are always wasting money to look for big emotion…the most emotion we can have is sitting in a cinema with people we don't know and [we can] laugh together, cry together and sleep together, if the movie is very boring. This is the biggest emotion that exists in the world. Sometimes it's crazy - we are spending a lot of energy to find bigger emotions but the big emotion is already there (in the cinema)."
If cinemas aren't available, she acknowledged, "Netflix and other platforms" have their uses. The problem, though, is the risk of losing the "emotion" seeing films in a communal environment in a cinema can still provide.
Influences
The director grew up in the countryside. Her mother was a teacher and her father (like the father in The Wonders) kept bees. Rohrwacher draws heavily on her childhood in her work. "It was always so strange to me when I was growing up that the past was so close and so far away. People were talking about something that happened five years before like it was the Middle Ages."
Some of the experiences endured by her friends sounded like something out of a medieval tale. She talked of a friend who lost an ear because it was eaten off by a rat.
Rohrwacher was not a regular filmgoer as a child. "Cinema became inaccessible," she explained. "If you were not in the big city, the only movies going around were very commercial and mainstream and television was not very present in our lives."
Literature was her passion. "Literature was always present, with the possibility to escape, to imagine, invent stories and to forget."
Rohrwacher claimed her film career really began as a result of a desire as a youngster to join the circus. A graduate of Torino University in literature and philosophy, she co-directed documentaries with "the secret plan" to learn skills that might later help with the circus career.
"Making documentaries for me was very difficult," she acknowledged. "Every time a drama arrived, I would just put down the camera and help [the subjects]. My colleagues said, no, exactly when drama arrives, you have to film."
The director mounted a spirited defence of her decision to continue shooting on super 16mm film rather than on digital. "[Film] is a beautiful technology I really love and I always say it is the most modern technology I met in my life," she said. "For me, it was very important not to have too many possibilities in front of me and to have limitations."
Rohrwacher is now writing a new film but said it was too early to say if she will make it next. "Maybe it is not the right one," she said.