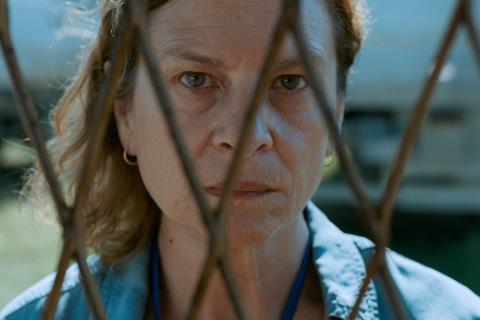 Jasmila Žbanić's Quo Vadis, Aida? won three prizes including best film at this year's European Film Awards, which went ahead as a hybrid event in Berlin tonight (Dec 11).
Žbanić was also named best director by the European Film Academy's (EFA) 4,200-strong membership, whilst the film's star Jasna Đuričić won best actress.
In her acceptance speech, Žbanić dedicated her award to "the women of Srebrenica and mothers who taught us how to turn destruction into love. I hope it will encourage more female solidarity, female stories, female perspective in film, politics and life."
Quo Vadis, Aida? premiered at Venice in 2020 and revisits Bosnia's Srebrenica massacre. It was nominated for best international feature film at the 2020 Oscars.
The ongoing pandemic meant the event went ahead without an audience, with a mix of studio guests and nominees attending virtually either alone at home or gathered together in teams.
"We never expected a fourth wave of the pandemic to impact our ceremony a second time in a row," said EFA president Agnieszka Holland. "But we feel this is the moment to fight and stand for filmmakers in Europe – that's why we are here."
The Father picked up two awards; best actor for Anthony Hopkins, and best screenwriter for Florian Zeller and Christopher Hampton.
Another multiple winner was Jonas Poher Rasmussen's Flee, winning best documentary, best animated film and the university film prize. Yngvild Sve Flikke's Ninjababy won best comedy.
Several awards were announced ahead of Saturday, including the eight craft winners, as well as lifetime achievement (Márta Mészáros), achievement in world cinema (Susanne Bier), innovative storytelling (Steve McQueen, for the Small Axe series) and the Eurimages co-Production award (Maria Ekerhovd).
In her speech, Bier said "having the live event [of the EFAs] is proof of the resilience of European cinema". McQueen dedicated his award "to the survivors of Grenfell and the people who fell during the tragedy of Grenfell in London a few years back," adding, "the fight continues!".
LUX audience awards
During the ceremony, EFA chairman Mike Downey revealed that Flee, Quo Vadis, Aida? and Sebastian Meise's Great Freedom were the nominated films for the second edition of the LUX audience award, which was launched in September 2020 by the European Parliament and EFA, in partnership with the European Commission and Europa Cinemas.
The three films will now be subtitled in all 24 EU languages and the winning film decided after a voting period for general public and MEPs lasting December 12 to May 25. The winner will be announced in a ceremony at the European Parliament in Strasbourg on June 8, 2022.
The European Film Awards' 35th edition in December 2022 is set to be held in Reykjavik, the original venue for last year's ceremony which ended up taking place as a virtual event.
EFA 2021 winners
European Film
Quo Vadis, Aida? dir. Jasmila Žbanić
European Comedy
Ninjababy dir. Yngvild Sve Flikke
European Documentary
Flee dir. Jonas Poher Rasmussen
European Animated Feature Film
Flee dir. Jonas Poher Rasmussen
European Director
Jasmila Žbanić, Quo Vadis, Aida?
European Actress
Jasna Đuričić, Quo Vadis, Aida?
European Actor
Anthony Hopkins, The Father
European Screenwriter
Florian Zeller and Christopher Hampton, The Father
European Discovery – Prix Fipresci
Promising Young Woman by Emerald Fennell
Eurimages Co-Production Award
Maria Ekerhovd
European Innovative Storytelling
Steve McQueen, Small Axe
European Lifetime Achievement
Márta Mészáros
European Achievement in World Cinema
Susanne Bier
European Cinematography
Crystel Fournier, Great Freedom
European Editing
Mukharam Kabulova, Unclenching The Fists
European Production Design
Márton Ágh, Natural Light
European Costume Design
Michael O'Connor, Ammonite
European Hair and Make-up
Flore Masson, Olivier Afonso, Antoine Mancini, Titane
European Original Score
Nils Petter Molvær, Peter Brötzmann, Great Freedom
European Sound
Gisle Tveito, Gustaf Berger, The Innocents
European Visual Effects
Peter Hjorth, Fredrik Nord, Lamb
European University Film Award
Flee dir. Jonas Poher Rasmussen
European Film Academy Young Audience Award (YAA)
The Crossing by Johanne Helgeland
Nominations for LUX – the European Audience Film Award 2022
Flee dir. Jonas Poher Rasmussen
Great Freedom dir. Sebastian Meise
Quo Vadis, Aida? dir. Jasmila Žbanić