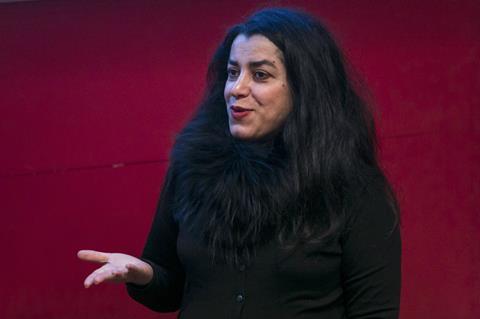 Iranian-French filmmaker Marjane Satrapi, the first woman to be nominated for an animation Oscar with her film Persepolis, has called for more female role models on screen.
"Women are half the population of the world so half the stories should be about us, but that's not the case," she said to an audience of rising writers and directors at the Glasgow Film Festival on Friday. "And the stories that are made about women have us as the cheated-on girlfriend or old and looking for love."
Satrapi was attending the festival with her new feature Radioactive in which Rosamund Pike plays brilliant scientist Marie Curie, exploring her life and career as well as the impact of her discoveries – radium and polonium – on the modern world.
"I loved this fierce woman who was uncompromising, had integrity and stood up for what she believed," said Satrapi. "I wanted to make an epic story about a woman where it's not about being pretty or where the goal is to get a husband, house and baby. Did you know there were more female mathematicians in the 1980s than there are today? Why is that? It's because there are no female role models. I had to make one film to inspire younger girls."
In a wide-ranging talk about her career to date, the writer-director discussed why she will never work with Americans again, why she can never return to Iran and her disdain for "influencers".
Satrapi chronicled her early life, living through revolution in Iran and her subsequent move to Europe, in comic book Persepolis (she deplores the term 'graphic novel'), which she reluctantly adapted as a feature.
"I did everything not to make that film when first asked," she recalled. "I said, let's make a black-and-white film, hand-drawn, 2D, including the voice of Catherine Deneuve. Incredibly, the producer came back and said ok, to which I thought 'Shit, now we have to do it!'."
Persepolis received its world premiere at Cannes in 2007, where it won the jury prize, and went on to scoop numerous awards including the Cesar for best first film as well as securing that landmark Oscar nomination.
Living in exile
However, the Iranian government denounced the film and Satrapi remains in exile from her home country. "I cannot go back," she said. "First it was a chosen exile, then it became a forced exile. I don't want to return to a dictatorship and spend the rest of my life in jail being tortured."
"Thank goodness Paris is chaotic," she says of the city she now calls home. "Of course I miss Iran but I have a great life. If you love what you do, you've won the Oscar of life."
Turning her back on animation - production of which she describes as being "like a little turtle, so slow" - Satrapi's second feature was the live-action Chicken With Plums. Adapted from another of her comic books, it played in competition at Venice in 2011.
"I thought it was much cooler," she recalled of first working with actors. "In animation, I have to play all the roles. In live action, when the actors are good, they become the characters and surprise you."
The following year, she wrote, directed and starred in low-budget comedy caper Gang Of The Jotas. "We made this film in 10 days, using my Canon 5D, on a budget of €10,000," she said. "It was important for me to do that. Working with big budgets, you can forget why you're doing it in the first place. It's important to wash yourself and make a film for the pleasure of it. After Radioactive, I need to make a small film again to wash myself of the dirt of finance."
Working with US producers
Satrapi then made The Voices, a jet black serial killer comedy starring Ryan Reynolds, Gemma Arterton and Anna Kendrick, which debuted at Sundance in 2014. While highly complementary of her actors, she explained how the experience turned her off working with US producers for life.
"I really enjoyed making that movie but I hated working with Americans," said Satrapi. "It was supposed to be made by Ben Stiller with a budget of $22m. I made it for $8m so they can come and kiss my hand, if not my ass.
"But then they start giving me notes and sent this producer who repeated himself for 12 hours. I was staring at these empty blue eyes thinking I could murder him. In the end, I hated working with them. I come from France where cinema is the seventh art. In America, it's the film industry. The reality is somewhere between the two. I said I would not work with Americans again, and I haven't."
Not a normal biopic
True to her word, Radioactive is produced by the UK's Shoebox Films and Working Title Films, backed by Studiocanal, based on a graphic novel by Lauren Redniss and adapted by UK writer Jack Thorne. Starring Pike as pioneering Polish scientist Maria Skłodowska-Curie, Satrapi describes the film as "a semi-biopic" as it features 20th century events that took place long after the death of the two-time Nobel Prize winner.
"It's called 'Radioactive', not 'Marie Curie, An Incredible Life'," said Satrapi. "It goes beyond. I also had the space to make surreal scenes and show radioactivity, which is invisible.
"But it is the most challenging film I've ever made. It's a real person so you cannot cheat the reality. And you're talking about science, which is exciting – but showing it is not. So we have the challenge of making science exciting and playful."
On her hope for the audience it draws, she added: "I hope younger women and younger men see it. In the western world, more than 60% of young people now want to become a vlogger or YouTuber. Fuck me. This is not a job. They want to become an influencer. Influenza is a sickness. You're going to influence other people's minds? This is not a job. You're not doing anything good for society.
"Me, as an artist, I have a social role and take it seriously. I have to do it properly. Artists have a responsibility."
Radioactive, which received its world premiere at Toronto, is set for release in the UK through Studiocanal on March 20 and in France on March 25 ahead of its US release through Amazon Studios on April 24.
The Glasgow Film Festival closed on Sunday, March 8 with Coky Giedroyc's How To Build A Girl.