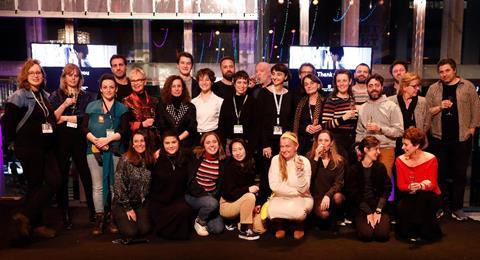 Argentinian director Natalia Garagiola's Infanta, produced by Rei Cine, won the Eurimages Co-production Development Award, worth €20,000, at the IFFR Pro award ceremony at the International Film Festival Rotterdam on January 29, the closing night of co-production market CineMart (January 29).
The award Eurimages award is open to CineMart or BoostNL projects that are or will be a European co-production. Infanta is Garagiola's second feature after 2017's Hunting Season. The jury said: "[This] project promises to be an intense drama, with a starting point in real historical events."
The Filmmore Post-production Award, presented by post-production lab Filmmore and worth €7,500, was awarded to South African project A Shadow Creeps in Silver Trees by John Trengove, best known for directing 2017 Sundance premiere The Wound. Urucu Media produces.
Radu Jude's Sleepwalkers won the ArteKino International Prize, worth €6,000 and awarded to the producer – Romania's microFilm – to support its financial development. The renowned Romanian director's I Do Not Care If We Go Down in History as Barbarians won the top prize at Karlovy Vary in 2018.
The €5,000 Wouter Barendrecht ward, open to filmmakers under 35 who have directed three or fewer films, went to The Station by UK-Yemeni director Sara Ishaq. Produced by Screen Project, it is her first fiction feature, following Oscar and Bafta nominations for her short film projects.
Iván Granovsky's Jealous White Men, a take on Charles Darwin's life, won the Splendor Omnia award, one of two new prizes this year. The project will receive €9,500 worth of post-production at Splendor Omnia Postproduction Studios in Tepoztlán, Mexico. It is the Argentinian filmmaker's second feature after 2017 documentary The Territory.
The second new prize was the IFFR Pro Young Network award, worth €2,500 and selected by the IFFR Young Network from all the projects presented during IFFR Pro Days. It was won by Zeynep Dadak's dystopian sci-fi Electric Sleep. Fenafilm/unafilm (Turkey-Germany) produces.
This year's slimmed-down CineMart saw the number of projects presented down from around 35 to 17.