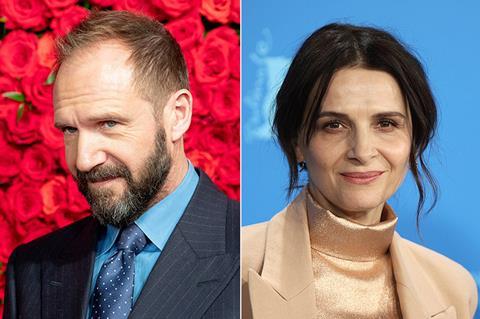 Ralph Fiennes and Juliette Binoche will lead the cast of Uberto Pasolini's The Return, starring together for the first time since 1996 classic The English Patient.
The Return is a retelling of Homer's epic Greek poem The Odyssey, about the return of hero Odysseus from the war. The film will shoot in 2023; HanWay Films has boarded worldwide sales, which will commence in Cannes next month.
Pasolini will direct from a script by Master & Commander writer John Collee and UK playwright Edward Bond.
The film will be produced by James Clayton and Pasolini for UK company Red Wave Films; production dates are yet to be confirmed. Funding for the film comes from Roberto Sessa's Italian company Picomedia.
Fiennes will take on the role of Odysseus, who washes up on the shores of Ithaca after 20 years away. His wife Penelope – played by Binoche – is now a prisoner in her own home, hounded by ambitious suitors to choose a new husband to be king.
The Marché du Film runs from May 17-25 in Cannes.