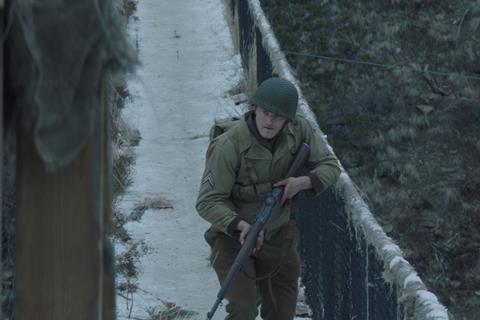 At the midway point in the Cannes virtual market Bleiberg/Dimbort has reported a flurry of sales on Enderby Entertainment's Second World War thriller Recon led by the UK, Germany, and France.
Dazzler Media has acquired UK rights, while Spirit Media has acquired the film for Germany, and Koba will release in France.
Deals have closed in Italy (Blue Swan), Middle East (Eagle), India (Picture Works), Japan (Nikkatsu), South Korea (Scene and Sound), and Indonesia (PT Falcon).
Brainstorm Media is set to release the film in US theatres nationwide in November on Veteran's Day to commemorate America's military heroes.
Robert Port directed the adaptation of Richard Bausch's novel about four American soldiers on a mission in the Italian mountains in the final days of the war.
Relying on an old local with uncertain loyalties as their guide, the men must trek through the wilderness as an unseen enemy sniper pursues them.
Enderby Entertainment's Rick Dugdale is producing.
Alexander Ludwig (Vikings, Bad Boys For Life) stars with Sam Keeley (Siege At Jadotville), Chris Brochu (Soul Surfer, The Vampire Diaries), and Franco Nero (Django, John Wick: Chapter 2).