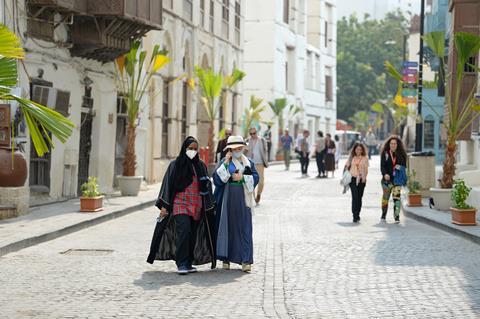 The Red Sea International Film Festival's inaugural market the Red Sea Souk draws to a close on Saturday (December 11) after a buzzy four days of meetings and talks, headlined by the likes of AGC Studios CEO Stuart Ford and MBC Studios KSA General manager Zeinab Abu Alsamh.
The market venue next to the main festival hub in Jeddah's old quarter of Al Balad, is now set to host the festival's two-day Talent Days event.
Running December 12 and 13, in partnership with the MBC Group, the aim is to foster the next generation of Saudi film professionals.
"It's specifically for amateur filmmakers," says Red Souk manager Zain Zedan. "We wanted to create a programme to open doors for them, to create opportunities. It's like a series of smaller souk events – talks, workshops, masterclasses, and so on,"
"There's a lot of interest. The pool is huge here in Saudi and the Gulf area. There's a lot of talent," she adds.
Although a handful of educational institutions across Saudi, such as Effat University, have started to offer filmmaking related courses there is no official film school in the country as yet, making events like Talent Days all the more important for youngsters wanting to go into film.
The event assumes a relatively low knowledge base with a trio of workshops tackling how the international film industry works; film criticism, covering both how to critique a film and how to receive criticism, and post-production.
There will also be a special screening of rising Saudi director Wael Abu Mansour's 2020 road trip film Carnaval City as an example of a work by a pioneering young filmmaker. The film premiered in a special two-day event in Jeddah over the summer.
Filmmaker Abu Mansour will also be participating as a moderator on a panel on nonfiction storytelling, featuring Beirut-based producer Sabine Sedawi and Palestinian director Rashid Almasharawi on the panel.
Further panel discussions will explore the French film school model and discuss whether it could work in Saudi Arabia. Representatives of France's animation school Gobelins, La Fémis and Ciné Fabrique are due to participate.
Netflix manager for Arabic original series Abdulrahman Khawj will moderate a panel titled 'Writing For TV, Cinema and Web', which is being hosted by burgeoning local content group Telfaz11.
Building on the fact that many of the country's past content stars broke into the industry via YouTube channel, it will explore whether writing for YouTube is different from writing for cinema or longer formats such as episodic TV/web series.
In another panel, established Saudi director Hana Alomair, who has recently been appointed head of the country's first filmmakers association, will interview some of the founders of the Talashi Film Collective.
There will also be a series of keynotes by Palestinian director Hany Abu Asaad, US producer Chris Keyser, Iraqi-Dutch director Mohammed Al-Daradji and US-Palestinian filmmaker Cherien Dabis.
"The aim is to take the participants to the next stage," says Zedan.