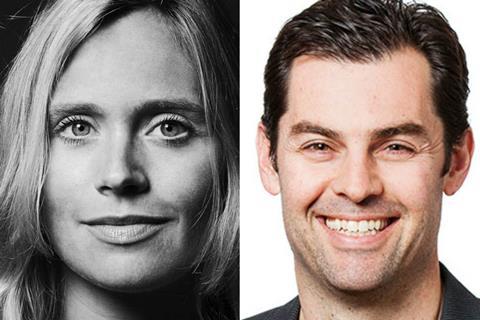 REinvent Studios, the Copenhagen-based company launched by former TrustNordisk CEO Rikke Ennis, has signed a three-year strategic partnership to handle international sales for SF Studios' new Scandinavian TV series.
The deal will cover properties developed from now going forward.
Tim King, executive vice president production for SF Studios, based in Stockholm, explained, "We have eight new shows in active development across the Nordics that we will start discussing at MIPCOM. These shows represent a broad range of genres, which reflects the general need for Scandinavian producers to move away from pure Scandi Noir. This means that we have a mix of non-traditional crime, young-adults content and dramas.
The pact is expected to cover about five or six shows per year. It will not include SF's English-language shows.
King said, "This partnership is important to SF Studios as we feel the need to increase our international profile, which has been hidden behind multiple different international distributors, as well as strengthening our content through a stronger dialogue during development.
He added that, "Both Rikke and Helene are amazing in their fields. For us to do this deal with a Scandinavian player was also important, our future is intertwined."
Ennis told Screen, "We believe in the power of partnerships; if you put the right people around the table, you can create a better business, a better project. We know SF well and they have a very good track record within TV drama."
She continued, "Being a part of this strategic partnership shows what REinvent wants to do. We don't want to work on a project basis that's short term, we like to work with people on a long-term basis, it's about learning together."
Helene Aurø, REinvent's sales and marketing director, will be able to discuss the SF slate at REinvent's first market, MIPCOM in October. Aurø joined REinvent earlier this month after nearly 20 years at DR Sales, working on shows such as The Killing, Borgen, The Legacy and Norskov.
Aurø said, "I'm so pleased and thrilled that we can represent SF's titles. The slate is very varied. As Tim said it's not just crime, it's different types of series.
"I have worked with SF before, their productions work really well internationally. I think no matter what they are producing the audience can relate to what they see, I'm sure there is an international audience for the slate they have coming up."
REinvent's previously announced TV co-production slate includes sci-fi drama Hope by Lars Lundstrom and Cristiano Bortone; dystopian drama Last Light adapted from UK writer Alex Scarrow's novel; and Kim Fupz Aakeson's quirky drama series Wilderness.
After MIPCOM, REinvent will attend Content London and the EFM in Berlin.
REinvent also works across development, packaging, finance and creative producing.
SF's recent TV series include Rita, Norskov, Seaside Hotel, The Lawyer and Alex. Soon to be released series include The Hunters and Nursing School. SF's existing shows will continue to be represented by their appointed distributors.