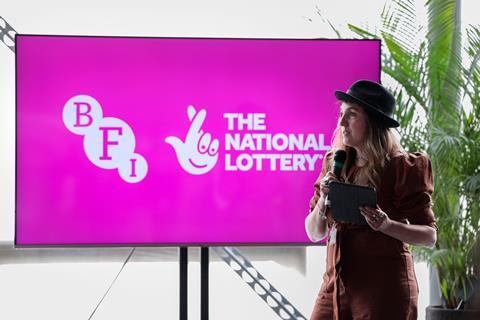 The British Film Institute (BFI) National Lottery Filmmaking Fund has laid out plans for four new funds as part of its £54m support strategy for UK films and talent over the course of three years, as teased under the BFI Screen Culture 2033 10-year funding roadmap unveiled in September of last year.
This £54m, which represents almost 40% of the BFI's National Lottery 'good cause' funding, is divided into £36.6m for production and development funding across three years via four funds: Development (60-70 projects per year), Creative Challenge (labs and development programmes), Discovery (production funding for six directorial debuts per year) and Impact (production funding for five projects, second time and beyond filmmakers, or debuts budgeted over £3.5m).
Scroll down for full details each fund
Documentary, shorts, talent development and immerse projects will receive a combined £17.4m across the three years, with details of the £6m support across three years for documentary projects via Doc Society outlined in February.
The £54m equates to £18m per year. In 2022/23 the BFI Film Fund budget was around £25m per year, with funds including production, pre-production and development. As underlined by BFI chief executive Ben Roberts in the foreword to Screen Culture 2033: "We have to do more with less."
The unveiling of the funds comes in the wake of yesterday's announcement from the BFI of the departure of three key members of the BFI Film Fund (as the Filmmaking Fund has previously been known). Editor-at-large Lizzie Francke, head of production Fiona Morham, and head of editorial Natascha Wharton, will step down later this year.
Changes to how filmmakers are supported have been shaped by consultation with the industry, evaluation of the outgoing strategy and research such as the Economic Review of UK Independent Film. The BFI has committed to giving projects dedicated support throughout their lifecycle, including guidance on sales and distribution support.
Mia Bays, director of the BFI National Lottery Filmmaking Fund, said: "In response to evidence, listening to the industry, and building on past achievements, we are setting out a strategy that is re-focused and clear about our ambition: to support projects to have the greatest possible impact with audiences and on the careers of filmmakers, which speak to communities underrepresented in UK film previously. We are all navigating a reality, post pandemic, of challenging conditions which require a pragmatic approach. Informed by my own 30-year experience across the sector and working closely with the filmmaking fund team, we are committed to doing as much as we can with the funding available in fair, focused, transparent and mindful ways."
"Equity, diversity and inclusion"
The BFI said "equity, diversity and inclusion; cultural and audience impact; talent progression; creative risk taking; UK-wide reach and sustainability" will fuel its funding decisions, and reinforced its "commitment to UK debut filmmakers; recent films such as Aftersun, Rye Lane and Blue Jean demonstrate the cultural importance and power of nurturing new independent filmmakers."
The focus of funding is to back features that demonstrate "significant UK cultural and audience impact".
Targets have been introduced to ensure funding has a good spread across the entirety of the UK: 60% teams and 55% productions will be based outside London and the southeast. There is also a new target for applications from production companies who have not received BFI National Lottery funding in the past.
All projects supported will need to achieve the new BFI Diversity Standards for film, the details of which will be announced in due course, and will include a measure of socio-economic background.
To address access barriers for filmmakers, cast and crew with support requirements relating to a disability or physical or mental health diagnosis, applicants will be encouraged to include relevant costs in their budgets. If a project is already requesting the maximum available amount, teams can request additional access costs if needed.
Projects can request additional funding for support in hiring a wellbeing facilitator and to support crew from underrepresented groups to progress their careers by taking on more senior roles through BFI Step Up.
Melanie Hoyes, BFI's head of inclusion, said the Diversity Standards were updated following "extensive consultation with industry", adding: "They have been adapted for each area of funding, making them clearer and more relevant to specific activity such as growing audiences, training and the archive etc, as well as including additional sections about Accessibility and Duty of Care roles."
Short-form funding
For support of emerging talent, £7.8m through BFI Network will fund live-action and animation shorts and early feature development and professional development, with funds opening from April 2023.
Annual programmes for higher-budget short form work will run across the three years, with the BFI piloting Future Takes in partnership with Film4, now closed for applications, and will see a maximum of seven projects awarded £90,000 each.
BFI Filmmaking Fund for fiction features
£29.4m (across three years) of production funding is available via two funding streams:
BFI Discovery Fund is dedicated to directorial debuts, budgeted below £3.5m and aiming to support six features per year. Funding will be available across three application rounds annually. The first deadline is next month, April 24, for fully-developed projects seeking to shoot this year. Applications will then reopen in July and November.
BFI Impact Fund will support five projects with production funding per year, as a rolling fund. Criteria focuses on scale and level of audience impact projects are seeking to make. It's aimed at filmmakers with debut projects budgeted over £3.5m or second time and beyond filmmakers. The BFI plans to work with the projects to provide opportunities for upskilling, mentoring and production shadowing.
BFI Development Fund has £4.5m (across three years) to cover all stages of development and aims to support 60-70 projects per year. Emerging producers can request enhanced overhead support alongside their fee within the development budget.
BFI National Lottery Creative Challenge Fund will open later in 2023, funding labs and development programmes to decentralise project development and ensure support is UK-wide. Funding will be awarded to production companies and screen organisations across the UK to develop and run time-specific programmes to support filmmakers move their work forward.