Protagonist will introduce to buyers to the Oren Moverman-directed film at EFM next month.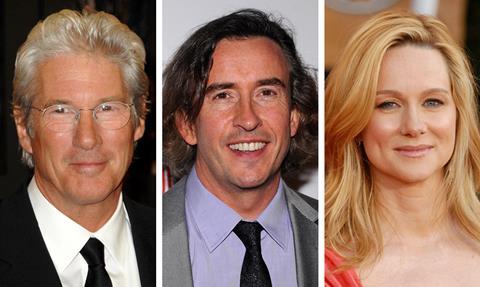 Richard Gere, Steve Coogan, Laura Linney, Rebecca Hall and Chloë Sevigny are to star in The Dinner, a film based on the bestselling novel by Herman Koch, which will start shooting in New York on Jan 21.
Oren Moverman, whose last film Time Out Of Mind also starred Gere, has adapted the novel and will direct.
Cotty Chubb, Lawrence Inglee, Eddie Vaisman and Julia Lebedev are the producers of the film, which is a Code Red, ChubbCo and Blackbird production. Code Red is fully financing and Protagonist Pictures is handling international sales and will introduce the title to buyers at the European Film Market (EFM) in Berlin next month.
Executive producers are Leonid Lebedev, Angel Lopez, Olga Segura and Eva Daniels.
The Dinner begins as Paul and Claire Lohman (Coogan, Linney) get ready for a dinner with Paul's politician brother Stan (Gere) and his wife Barbara (Hall). Tensions already exist between the two brothers – Stan is a smooth-talking celebrity who is the favorite to win the governor's race, while Paul has a chip on his shoulder and is currently not working.
But, as the evening in a chic restaurant progresses, dark secrets emerge about their respective children. A monstrous crime has been committed by the Lohman kids and the two couples are divided about how to handle the situation.
Moverman, who wrote and produced Brian Wilson biopic Love & Mercy, described Koch's story as "an extraordinarily provocative, conscience-bending ride that takes on culturally relevant issues and turns them into an intricate menu of human passions and primal fears".
Moverman's first feature, The Messenger, secured Oscar nominations for his script (with Alessandro Camon) and Woody Harrelson's performance. His second film, Rampart, boasted an ensemble cast including Harrelson, Ben Foster, Sigourney Weaver, Robin Wright, Ice Cube, Ned Beatty and Brie Larson.
He also co-wrote I'm Not There with Todd Haynes and produced the recently shot Oppenheimer Strategies, also starring Gere, with Inglee.
Cate Blanchett was set to make her directorial debut with The Dinner but is no longer attached.