Hanway Films secures deal with Lionsgate for UK rights; producer Stephen Woolley says the twist in the film trumps The Crying Game.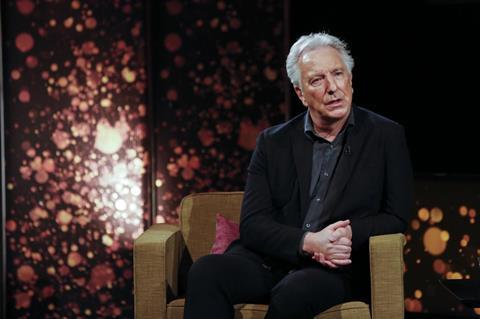 Alan Rickman, Olivia Cooke and Douglas Booth have signed on to star in gothic murder mystery The Limehouse Golem, from a screenplay by Jane Goldman (Kingsman: The Secret Service).
Goldman, whose screenplay work includes The Woman In Black and X-Men: First Class, adapted Peter Ackyroyd's bestselling novel Dan Leno and the Limehouse Golem.
HanWay Films have boarded worldwide sales rights to the film, which will be produced by Number 9 Films and directed by Juan Carlos Medina (Painless).
Lionsgate Films has newly acquired UK and Irish distribution rights to the film from Hanway.
The Limehouse Golem is set in 1880, in the dangerous Limehouse district of London where a series of grisly murders have shaken the community. The press claim they're the work of The Golem - a legendary creature from dark times - and the police put experienced Detective Inspector Kildare on the case.
Producers are Stephen Woolley, Elizabeth Karlsen and Joanna Laurie (Hyena).
Woolley and Karlsen were producers on Todd Haynes' Carol and Paolo Sorrentino's Youth, both of which will compete for the Palme d'Or at this year's Cannes Film Festival.
"[The Limehouse Golem] is going to be the first time the world will see the amazing universe that Peter Ackroyd has created that has a more sensational twist than The Crying Game," said Woolley, who produced Neil Jordan's 1992 film that featured a famous twist in the tale.
Cooke's breakthrough performance was as Rachel in the Sundance hit Me And Earl And The Dying Girl, which won the Grand Jury and Audience prizes.
Rickman, perhaps best known for his roles in the Harry Potter series and Die Hard, will next be seen alongside Kate Winslet in A Little Chaos, which he also directed.
Douglas Booth (The Riot Club, Noah) has just wrapped Pride And Prejudice And Zombies alongside Lily James.