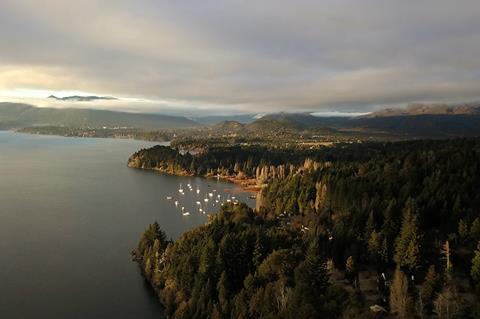 Río Negro in southern Argentina has become the first province in the country to introduce a cash rebate for international productions after local legislators approved an incentives package.
Film or TV producers that employ at least 30% of their cast or crew from the province will be eligible for a 15% cash rebate on national or international productions.
The province's Audiovisual Development Program also offers local Río Negro shoots a subsidy of up to 40% of the cost of production.
The province, situated in northern Patagonia, features a range of cityscapes and scenery from the Andes and glacial lakes, to forest-covered plateaus, and pebble beaches by the Atlantic Ocean. The region's versatility has attracted numerous productions in the past, including Chris Weitz's Nazi-hunter thriller Operation Finale starring Oscar Isaac and Ben Kingsley, which was partly shot in Bariloche.
Local shoot The Scourge (El Azote) won best Argentinian film at the 2017 Mar del Plata Film Festival, and filming wrapped recently on the Switzerland-Chile co-production Sahori.
Río Negro secretary of culture Ariel Avalos and his team will review applications and reveal further details of the programme's guidelines, mission and functions after consulting with an audiovisual advisory council comprising actors and representatives from educational institutions.
After initial conversations at the Ventana Sur market last December, Argentina's film commissioner Ana Aizenberg and producer Gabriel Bendersky set up meetings with Avalos and production companies and streamers in Buenos Aires to move ahead with the incentive.
Aizenberg has worked with local partners to set up film commissions in each of Argentina's states supplemented by regional training courses, as well as a federal film commission network.
Argentina's national film body INCAA is expected to announce a nationwide TV production incentive shortly.