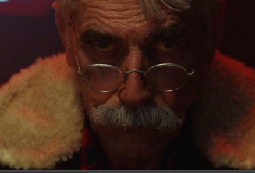 RLJE Films has acquired all North American rights to the upcoming adventure film The Man Who Killed Hitler And Then The Bigfoot.
Robert D. Krzykowski wrote the screenplay and makes his directorial debut on the film starring Sam Elliott, Aidan Turner, Ron Livingston, Caitlin FitzGerald, Larry Miller, and Ellar Coltrane from Boyhood.
The Man Who Killed Hitler And Then The Bigfoot premiered at the Fantasia Film Festival and centres on legendary American war veteran Calvin Barr who, decades after serving in the Second World War and assassinating Adolf Hitler, must now hunt down the fabled Bigfoot.
Living a peaceful life in New England, the former veteran is contacted by the FBI and the Royal Canadian Mounted Police to lead the charge against the creature, which carries a deadly plague and hides deep inside the Canadian wilderness.
Krzykowski produced alongside Patrick Ewald, Lucky McKee, and Shaked Berenson. Executive producers are John Sayles, Douglas Trumbull, Louise Lovegrove, Giles Daoust, Catherine Dumonceaux, Deborah Shriver and John Shriver.
Richard Yuricich (Blade Runner, Close Encounters Of The Third Kind) supervised the film's visual effects. Epic Pictures acted as producer and primary financing company for the film.
RLJE Films plans to release the film nationally in theatres, VOD and digital HD in the first quarter of 2019.
"The film's unique plot will spark great curiosity among audiences," said Mark Ward, RLJE Films chief acquisitions officer. "It's a stunning tale with the legendary Sam Elliott leading a great cast."
Ward and Jess De Leo from RLJE negotiated the deal with Ewald and Michelle Change of Ramo Law on behalf of the filmmakers.