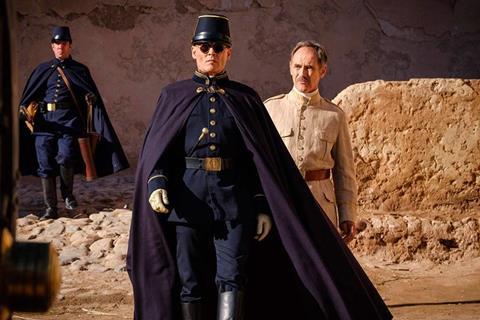 Samuel Goldwyn Films has acquired North American rights to Ciro Guerra's Waiting For The Barbarians starring Mark Rylance, Johnny Depp, and Robert Pattinson and will release on digital platforms in August.
The J.M. Coetzee adaptation had been intended to launch theatrically, however the decision was taken to release on VoD and digital first given uncertainty amid the coronavirus pandemic as to when theatres might reopen.
Gana Bayarsaikhan and Greta Scacchi also star in the period drama about a magistrate (Rylance) in the frontier of an unnamed empire whose retirement plans are scuppered when a sadistic military officer (Depp) arrives to round up suspected enemies. The drama premiered in Venice Film Festival 2019.
Colombian auteur Guerra, whose credits include Embrace Of The Serpent and Birds Of Passage, directed from Coetzee's adapted screenplay based on his novel.
Michael Fitzgerald, Olga Segura, Andrea Iervolino of Iervolino Entertainment, and Monika Bacardi served as producers, with Martin Franklin, Guerro's frequent collaborator Cristina Gallego, Danielle Maloni, Deborah Dobson Bach, and Penelope Glass on board as executive producers.
Guerra said it had been "a great honour" to adapt Coetzee's "timeless story that speaks volumes to our world today" and work with Samuel Goldwyn.
Peter Goldwyn of Samuel Goldwyn Films hailed Guerra for creating "a world that forces us to look deeper into ourselves and ask, 'What would I do?'"
Meg Longo and Ben Feingold brokered the deal on behalf of Samuel Goldwyn Films with Julie Sultan of Iervolino and Bacardi's AMBI Media Group, which financed Waiting For The Barbarians and handled international sales.
In late 2018 Iervolino and Depp announced they were collaborating on a slate of features and digital content.