EXCLUSIVE: Former TWC exec to join as co-MD, UPIP, alongside Peter Kujawski.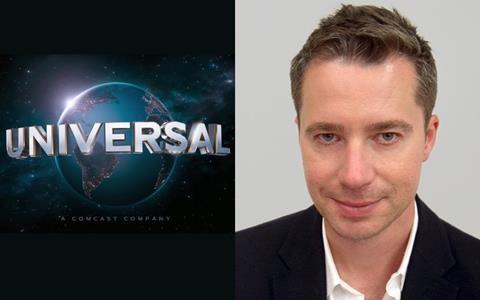 Robert Walak, recently departed from TWC, is to join Universal Pictures International Productions as co-managing director alongside LA-based MD Peter Kujawski.
Following a record-breaking year at the international box office, the appointment by Universal is a statement of intent and further bolsters the international division, which lost UK-based president David Kosse to Film4 last year.
London-based Walak will begin in the role in December and report to Universal chairman Donna Langley.
Like Kujawski, Walak will be tasked with expanding the studio's global presence through internationally oriented acquisitions, productions and local-language product.
Walak stepped down from his post at TWC earlier this month after two years at the company, most recently as managing director Europe/president production, acquisitions and television.
He joins Universal as the studio is riding a phenomenal wave, both domestically and on the international stage.
Universal Pictures International (UPI) had already posted the highest-grossing year ever at the international box office by August of this year and it has now taken nearly $4.5bn, with Furious 7, Jurassic World, Minions and Fifty Shades Of Grey all excelling.
"I'm thrilled to join Universal at this extraordinary time in the studio's history as it celebrates a record-breaking year, the likes of which our industry has never seen," said Walak.
"I have great respect for Peter's taste, which I have consistently applauded at every festival. He and the UPIP team have an outstanding track record and I look forward to building the slate and identifying new opportunities for growth in the international marketplace."
"Robert is one of the most well respected executives in our business and has the breadth and depth of knowledge to lift our entire organisation to new levels of success across every part of our broad slate," commented Kujawski.
"From mainstream English-language acquisitions to auteur-driven films to local-language productions, his wealth of filmmaker relationships and ability to identify new and unique opportunities make him an absolutely invaluable partner."
While at The Weinstein Company, Walak acquired titles including Carol, Macbeth, Paddington, Lion, The Imitation Game, The Woman In Gold and 47 Meters Down.
He was also a major force in TWC's push into scripted drama and is an executive producer on their upcoming collaboration with the BBC, War And Peace.
Prior to joining the company, Walak was senior vice president, acquisitions and production at Alliance Films/Momentum Pictures, driving projects for acquisition and co-financing/production for the U.K./Spain/Canada, including The King's Speech, The Woman In Black, Control, The Girl With The Dragon Tattoo and the Twilight franchise.
Under Kujawski, UPIP has acquired rights to major titles including Zero Dark Thirty, The Wolf Of Wall Street, Boyhood and The Hunger Games, which Universal released in select international territories.
In addition to worldwide and territorial acquisitions, UPIP finances internationally oriented English-language films, such as Working Title's The Danish Girl and Theory Of Everything, and Ex Machina.
The division also acquires, co-produces, and co-finances local-language films, such as Babysitting (France), Anne Frank (Germany), and Vai Que Cola (Brazil), and distributes local-language films for producers like Ocho Apellidos Vascos (Spain) and Viy (Russia).