JANUARY 23 UPDATE: Paramount's xXx: The Return Of Xander Cage lands with global bow of $71.6m.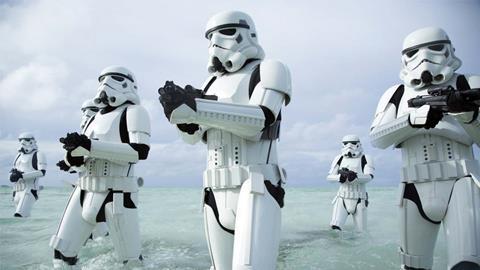 WALT DISNEY STUDIOS MOTION PICTURES INTERNATIONAL
Rogue One: A Star Wars Story has hit the $1bn mark at the worldwide box office on its 39th day of release (January 21).
The spin-off is the 13th Disney release ever to reach the milestone and the third Star Wars film to do so, as well as being the fourth 2016 Disney release to cross the $1bn mark. It has also become only the seventh film to gross $100m in IMAX.
Overall, Rogue One added $9m from 45 overseas territories for $499.1m internationally and $1.01bn worldwide. It has reached $79.4m in the UK and $61.3m in China after taking another $3.5m this weekend.
Moana also had a milestone of its own to celebrate as it reached $500m globally, taking $12.9m from its 40 territories for $272.5m overseas and $509.3m worldwide.
The animation opened top in Turkey with $500k for the highest opening of all time for an animated release and also sailed into Argentina with a chart-topping $1.4m. It opens in Hong Kong and Taiwan next weekend.
PARAMOUNT PICTURES INTERNATIONAL
UPDATE: xXx: The Return Of Xander Cage landed with a worldwide bow of $71.6m.
Overseas, Paramount Pictures and Revolution Studios' threequel took $51.5m from its 53 markets, charting top in 32 markets including India ($7.4m), Russia ($5.5m), France ($3.2m), Germany ($2.8m) and Mexico ($2.7m).
From its 630 IMAX screens worldwide, the film grossed $5m with $2.4m coming from 253 IMAX screens overseas.
It opens in South Korea on February 9, China on February 10 and Japan on February 24.
Allied and Monster Trucks stand at $69m and $19.3m, respectively.
LIONSGATE INTERNATIONAL
UPDATE: La La Land dazzled again with a $17.2m weekend from its 57 markets for $84.5m to date.
The awards contender launched in Brazil with a preview-boosted $2.1m from 304 screens, as well as retaining the top spot in the UK ($18.4m to date) and Spain ($4.7m to date). South Korea is its current leading overseas market with $21.6m.
La La Land dances into France, Belgium, Italy and Sweden next weekend.
SONY PICTURES RELEASING INTERNATIONAL
Passengers travelled to a further $13.4m from its 62 markets for $175.1m, including $12m from its Village Roadshow markets. Its leading markets so far are China ($33.5m), Russia ($16.9m) and the UK ($15.4m).
As its terrific run in Japan winds down, Resident Evil: The Final Chapter took $2.2m from its two markets for $35.1m.
The horror sequel posted a chart-topping $1.3m from 350 screens in Malaysia and bit into a further $940k in Japan for $33.8m. It begins its wider roll-out next weekend in Asia and Latin America.
Shinjuku Swan II recorded a $1.4m debut in Japan from 333 screens.
FOX INTERNATIONAL
UPDATE: Opening in Argentina with $872k from 199 screens, Assassin's Creed hunted down $9.1m from its 76 markets for $149.3m.
Brazil led the holdovers with a $2m second weekend for $8m to date, while the video game adaptation has reached $15.9m in Russia, $7.7m in Mexico and $14.6m in France.
Why Him? grossed an extra $5.6m from its 55 markets for $46.4m so far, led by decent holds in Russia ($1.1m for $3.8m) and Germany ($817k for $2.4m). It opens in France and Italy next weekend.
Starting its international roll-out in three markets, Hidden Figures took $733k with the majority coming from a $668k debut in Spain from 389 screens. It opens in nine markets next weekend, including Denmark and New Zealand.
UNIVERSAL PICTURES INTERNATIONAL
UPDATE: Sing took a further $9.3m from its 61 territories for $179.4m overseas and $428.8m worldwide.
With no new openings, Australia led the way with $1.2m for a local tally of $18.6m to date. It opens in France and the UK next weekend.
Opening in 20 overseas territories day-and-date with North America, Split posted a $5.9m debut.
The UK led the way with a strong $3.1m from 440 sites to chart second and marking M. Night Shyamalan's fourth best UK opening, while the thriller also landed in the likes of Hong Kong ($691k), Philippines ($386k) and the Netherlands ($284k).
Split opens in Austria, Croatia, Denmark, Germany, Greece, Italy, Romania, Spain, German-Switzerland, Australia, Pakistan and Paraguay next weekend.
Manchester By The Sea grossed $676k in its four Universal territories for $3m to date, opening in Germany with a healthy $325k from 88 sites and taking $176k in France for $2.5m so far.
Nocturnal Animals stands at $17.8m.
THE GREAT WALL
UPDATE: Legendary and Universal's The Great Wall took $5.6m from its 28 territories for $203.9m so far.
The fantasy epic opened top in Belgium with $230k from 77 sites and has reached $4.3m and $3.8m in France and Germany, respectively, after two weeks in play. It arrives in the Philippines next weekend.
WARNER BROS PICTURES INTERNATIONAL
UPDATE: Collateral Beauty earned $4m from its 51 territories for $45m to date.
The Will Smith drama continued its good run in Italy with a $1.3m third weekend for $8.6m so far and opened in Germany with $613k from 245 screens. It opens in Brazil next weekend.
Opening in France with $791k from 300 screens, Live By Night shot to $2.1m from its 39 territories for $6.3m, ahead of its release in Australia and Spain next weekend.
Fantastic Beasts And Where To Find Them has now conjured up $575.3m overseas, while The Accountant landed in Japan with $1.1m from 273 screens and has reached $65.3m overseas.
STX ENTERTAINMENT
Opening in two new markets, The Bye Bye Man scared up an estimated $616k from its 13 markets for an early $2.2m.