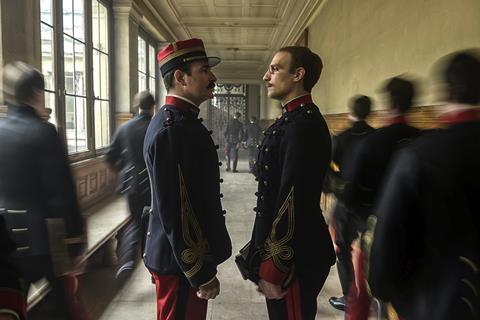 France's Academy of Cinema Arts and Sciences unveiled the nominations for the 45th edition of the César awards at its traditional news conference at Fouquet's restaurant in Paris on Wednesday morning.
Roman Polanski's historic drama An Officer And A Spy – about the infamous 19th Century Alfred Dreyfus affair - topped the list with nominations in 12 categories, including best film and best director.
The French release of the film, which won the grand jury prize at the Venice Film Festival last September, was hit by fresh rape allegations against Polanski last November but the ongoing controversy has not dented support for the film from the academy's members.
Louis Garrel, who has the smaller role of Dreyfus, and Jean Dujardin, who stars as a high-ranking military official who puts his life and career on the line to fight for justice for the wrongly accused officer, were nominated for best supporting actor and best actor respectively.
In a third acting nomination for the film, Grégory Gadebois was also nominated in the supporting actor category for his performance as a treacherous intelligence officer determined to keep Dreyfus in captivity.
The film also picked up nominations in the best costume, production design, cinematography, adaptation, editing, sound and cinematography categories.
Coming joint second in the nomination chart were Nicolas Bedos' romantic-comedy La Belle Epoque and Ladj Ly's Oscar-nominated urban drama Les Misérables came in second with 11 nominations each.
La Belle Epoque stars Daniel Auteuil as a jaded cartoonist in his 60s who signs up for an immersive experience recreating his life in his 20s. It has proved a crowd-pleaser at home and internationally since its premiere Out of Competition at Cannes last May, selling into some 50 territories for theatrical release.
Ly's Les Misérables has been on a award-winning run ever since it premiered at in competition at Cannes last May, clincing the jury prize in ex aequo with Bacurau. Over the past week, it won best film, screenplay and emerging actor for co-star Alexis Manenti at the French Lumières on Monday and the Goya for Best European Film over the weekend.
It is nominated in the Academy Awards' best international feature film category this year, alongside Parasite, Corpus Christi, Honeyland and Pain And Glory.
Celine Sciamma's costume drama Portrait Of A Lady On Fire clinched 10 nominations and Francois Ozon's drama By The Grace Of God, exploring child abuse in the Roman Catholic church garnered eight nominations.
The most hard-to- call category this year could be best first film.
The nomination list features five impressive and well-travelled debut features: Cannes 2019 grand jury prize winner Atlantics, which made it to the Oscar shortlist of 10 films, French box office hit In The Name Of The Land; nuclear submarine thriller The Wolf's Call, Ly's Les Misérables and Papicha, which was Algeria's Oscar submission this year after premiering in Un Certain Regard at Cannes.
The best foreign film category threw up an eclectic bunch of nominations pitting Todd Phillips's Joker and Quentin Tarantino's Once Upon A Time… In Hollywood against Jean-Pierre and Luc Dardenne's Young Ahmed, Pedro Almodovar's Pain And Glory and Bong Joon-ho's Oscar front-runner Parasite.
The Cesar Academy has been mired in controversy in the lead-up to this year's nominations around criticisms of a lack of transparency and diversity at the 45-year-old institution.
President Alain Terzian told the press conference on Wednesday that the academy was committed to introducing measures to increase diversity in its membership and make more space for younger members in the coming months.
The second round of voting by the César Academy's 4,313 members will run from February 3 to February 28. The awards ceremony will take place on February 28 at the Salle Pleyel concert hall in Paris.
Key Nominations
Best film
· La Belle Epoque, Nicolas Bedos
· By The Grace Of God, François Ozon
· The Specials, Eric Toledano, Olivier Nakache
· An Officer And A Spy, Roman Polanski
· Les Misérables, Ladj Ly
· Portrait Of A Lady On Fire, Céline Sciamma
· Oh Mercy!, Arnaud Desplechin
Best Director
· Nicolas Bedos, La Belle Epoque
· François Ozon, By The Grace Of God,
· Eric Toledano, Olivier Nakache, The Specials,
· Roman Polanski, An Officer And A Spy
· Ladj Ly, Les Misérables
· Céline Sciamma, Portrait Of A Lady On Fire
· Arnaud Desplechin, Oh Mercy!
Best Actress
· Anaïs Demoustier, Alice And The Mayor
· Eva Green, Proxima
· Adèle Haenel, Portrait Of A Lady On Fire
· Chiara Mastroianni, On A Magical Night
· Noémie Merlant, Portrait of A Lady On Fire
· Doria Tillier, La Belle Epoque
· Karin Viard, Perfect Nanny
Best Actor
· Daniel Auteuil, La Belle Epoque
· Damien Bonnard, Les Misérables
· Vincent Cassel, The Specials
· Jean Dujardin, An Officer And A Spy
· Reda Kateb, The Specials
· Melvil Poupaud, By The Grace Of God
· Roschdy Zem, Oh Mercy!
Best First Film
· Atlantics, Mati Diop
· In The Name Of The Land, Edouard Bergeon
· The Wolf's Call, Antonin Baudry
· Les Misérables, Ladj Ly
· Papicha, Mounia Meddour
Best Feature Animation
· The Bears' Famous Invasion, Lorenzo Mattotti
· Swallows Of Kabul, Zabou Breitman, Eléa Gobbé-Mévellec
· I Lost My Body, Jérémy Clapin
Best Documentary
· 68, Mon Père Et Les Clous, Samuel Bigiaoui
· The Cordillera Of Dreams, Patricio Guzmán
· Lourdes, Thierry Demaizière, Alban Teurlai
· M, Yolande Zauberman
· Wonder Boy, Anissa Bonnefont
Best Foreign Film
· Pain and Glory, Pedro Almodóvar (Spain)
· Young Ahmed, Jean-Pierre Dardenne, Luc Dardenne (Belgium)
· Joker, Todd Phillips (US)
· Lola, Laurent Micheli (Belgium)
· Once Upon A Time… In Hollywood, Quentin Tarantino (US)
· Parasite, Bong Joon-Ho (Korea)
· The Traitor, Marco Bellocchio (Italy)