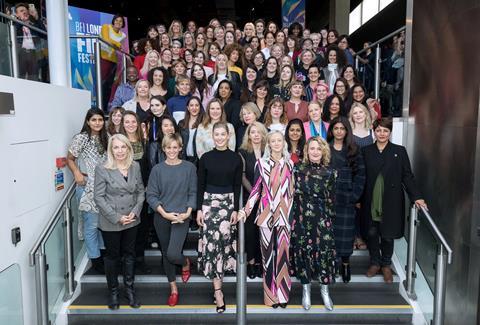 Actresses Rosamund Pike and Andrea Riseborough, producer Christine Vachon and directors Tinge Krishnan and Carol Morley were among the over 80 women who came together at the BFI London Film Festival to celebrate women filmmakers at the festival and women working throughout the UK and international film industry and as film journalists on Friday (October 12).
They were joined by Tricia Tuttle, artistic director of the LFF and Amanda Nevill, chief executive of the BFI. "I'm so proud to celebrate more female filmmakers at LFF 2018 than ever before, and the talented women working at the heart of London's film industry," said Tuttle.
The programem of the LFF this year is comprised of 38% female directors across the programme. Half of the films in Official Competition and the Short Film Compettion are directed or co-directed by women filmmakers while 60% of films in the First Feature Competition are directed by a woman.
"We can support women filmmakers by watching films by women directors, by writing about films by women directors, by talking on social media about films by women directors," said Tuttle.
Further high-profile participants included producers Elizabeth Karlsen, Laura Hastings-Smith and Faye Ward, actor Denise Gough and BBC Films' Eva Yates.
The full list of atendees is below:
Abosede Afolashade Ajao ENTITLED Lead Cast
Aga Baranowska BFI LFF Programming team
Aimara Reques AQUARELA Producer
Alexandra Breede BENJAMIN Producer
Amanda Jenkas BEEN SO LONG Producer
Amanda Nevill BFI CEO
Amaya Bañuelos Marco BFI LFF Programming team
Anais Canmels SEVANA FILMS Producer
Andrea Riseborough LFF JUROR
Anna Smith Film Journalist
Anne Gartside STXINTERNATIONAL Publicity Director
Ashanti Omkar BBC Film Journalist
Brenda Emmannus BBC Film and Entertainment Journalist
Briony Hanson BRITISH COUNCIL Director of Film
Cairo Cannon LFF JUROR
Carol Morley OUT OF BLUE Director
Caroline Levy COLETTE Co-Producer
Catherine Derry BEEN SO LONG Cinematographer
Christine Vachon COLETTE Producer
Claire Fowler SALAM Writer-Director
Clare Binns PICTUREHOUSE ENTERTAINMENT-Joint Managing Director
Corrina Antrobus BECHDEL TEST FEST Founder
Deborah Davis THE FAVOURITE Screenwriter
Denise Gough COLETTE Actor
Dr Stacy L. Smith ANNENBERG INCLUSION INITIATIVE Founder and Director
Elaine Wong BFI LFF Programming team
Elhum Shakerifar OF LOVE & LAW Producer
Elizabeth Karlsen COLETTE Producer
Emma Duffy MARI Producer
Erica Edwards LUSH Producer and Director
Eva Yates BBC FILM New Talent Commissioner
Faye Ward STAN & OLLIE / WILD ROSE Producer
Finn Hailligan Film Journalist
Georgia Parris MARI Director
Gina Powell AFTER THE SCREAMING STOPS Creative Producer
Harry Wootliff ONLY YOU Director
Heather Greenwood AFTER THE SCREAMING STOPS Co-Producer
Huda Abuzeid FREEDOM FIELDS Producer
Jayisha Patel CIRCLE Director
Jessica Hynes THE FIGHT Director/ Screenwriter/Actor
Jo Faruggia STAN & OLLIE / WILD ROSE Filmmaker
Joanna Abeyie HYDEN TALENT Managing Director
Joanna Natasegara EVELYN Producer
Joanne Dixon COLETTE Production supervisor
Julia Horcajo THE FIGHT Producer
Kate Muir Film Journalist
Kate Pieper
Kate Stonehill FAKE NEWS FAIRYTALE Director
Laura Hastings Smith THE LITTLE DRUMMER GIRL Producer
Leena Yadav RAJMA CHAWAL Writer/Director/Producer
Lindsey Dryden BFI FLARE MENTEE
Lorna Mann LIONSGATE Senior Vice President of Publicity
Louise Simpson BENJAMIN Producer
Louise Tutt Film journalist
Lucinda Englehart THE ELEPHANT QUEEN Producer
Lucy Cohen LFF JUROR
Lynn Nwokorie BFI LFF Programming team
Madeleine Molyneaux DOOZY, GODESS Producer
Maria Delgado BFI LFF Programming team
Maria Djurkovic LFF JUROR
Marina De Tavira ROMA Actor
Melissa Silverstein WOMEN AND HOLLYWOOD Founder
Molly Rees THE FIGHT Producer
Nadine Marsh-Edwards BEEN SO LONG Producer
Nandita Das MANTO Director
Naziha Arebi FREEDOM FIELDS Director
Nicole Taylor WILD ROSE Screenwriter
Pip Eldridge TIMES UP
Rebecca Ashdown TOGETHER FILMS Campaign Manager
Rebecca Ladbury TIMES UP
Rebecca Mark-Lawson IRENE'S GHOST Director
Rosamund Pike A PRIVATE WAR Actor
Rosanagh Griffiths SPINSTER FILMS Director
Sarah Lutton BFI LFF Programming team
Séverine Tibi SEVANA FILMS Producer
Sophie Brown BFI LFF Programming team
Sorcha Bacon Producer
Soudade Kaadan THE DAY I LOST MY SHADOW Director
Swati Shetty RAJMA CHAWAL Producer
Sylvia Stevens THE PLAN THAT CAME FROM THE BOTTOM UP Producer
Thais Fernandes A FEMALE BODY Director
Tinge Krishnan BEEN SO LONG Director
Tricia Tuttle BFI LONDON FILM FESTIVAL Artistic Director
Valerie Steinberg HAIR WOLF Producer
Wendy Mitchell Film Journalist
Jen Smith BFI Head of Diversity
Anne-Marie Flynn BFI Managing Director of BFI Festivals
Anna Bogutskaya BFI LFF Programming Team