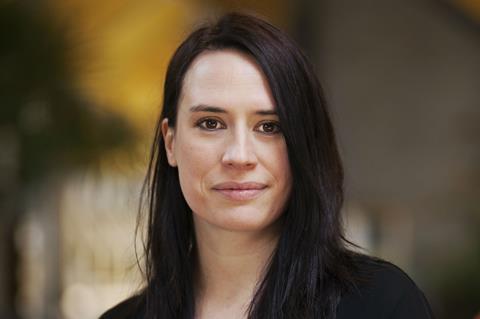 Vanja Kaludjercic, the new director of the International Film Festival Rotterdam (IFFR), has revealed a radical change in its programming structure and team for the 50th edition of the festival which is due to take place January 27- February 7, 2021.
One of the key changes is the introduction of a major new programming strand, Harbour, which will now become the festival's largest section and will screen 60 new films. The Bright Future Competition will no longer take place.
"What we would like to do with Harbour is to break free from the preconceived idea of what cinema is and should be," explained Kaludjercic, who took over from Bero Beyer on March 1. "We would much rather emphasise and create an inclusive space for the plurality of voices, of stories, of form."
The name 'Harbour' is intended to reflect Rotterdam's status as the largest harbour in Europe as well as the festival's reputation as IFFR's reputation as "a safe haven for diverse cinema". The section is expected to present a very broad mix of films including titles from both emerging and experienced directors.
"Next to highly artistic films we can present meaningful popular and genre films as well," Kaludjercic continued. "This doesn't mean that all of a sudden we are becoming commercially focused. It's all about the dialogue between these cultural expressions. By programming them alongside each other instead of putting a fence between them, we want to facilitate and address this dialogue through Harbour."
The festival's Tiger competition for directors making their first, second or third feature-length films is also increasing the number of films to 16 from 10 in 2020.
"The Tiger Competition is very much the flagship of the festival," Kaludjercic pointed out. "The section for the most daring, unique and eclectic emerging new voices. To be that, and to continue to be that in the future we need to give it more body, to prevent it from getting lost in and help it stand out from the overall programme.
"One of the first things we decided was that having another competitive section alongside it also for emerging filmmakers did not make sense. This is why we let go of the Bright Future Competition. To make clear that for emerging talents there is only one go-to place: the Tiger Awards Competition."
"Secondly, by increasing the total number of competition slots [up to 16] for the Tigers, we really want to add more weight to both competitions and anchor them within the overall programme. It is difficult to do that with only eight films, such a small selection has a more ephemeral character than one of permanence."
The Big Screen Competition is likewise growing in size. The thinking here is to strengthen the festival's collaboration with international distributors and sales agents and to boost efforts to connect audiences to IFFR films all the year round. The winners are guaranteed theatrical distribution in the Netherlands as well as a broadcasting slot on NPO2. The intention now is to extend the competition to films which already have Dutch distributors attached - and to give the winners extra marketing and distribution support.
"I felt that additional element would make the section even richer in its offering," Kaludjercic explained.
New-look programming team
Individual programmers will be contributing to all the different sections of the festival. The definitive size of these sections is dependent on the circumstances and restrictions in place.
Feature films will be selected under the supervision of senior programmers Bianca Taal and Gerwin Tamsma. They are being joined on the artistic committee by Giona Nazzaro, well known for his work as general delegate of Venice Critics' Week and as programmer for Visions du Réel.
Evgeny Gusyatinskiy stays with the team and covers Russia and other former Soviet territories, Central and Eastern Europe, Greece and Israel. Julian Ross' territorial focus has been broadened to include South Korea, Japan and South-East Asia.
Several new programmers are also joining the team with territory specialities. They are: Stefan Borsos (India, Sri Lanka and Bangladesh); Michelle Carey (US, UK, New Zealand, Australia and English-speaking Canada) Shelly Kraicer (China, Hong Kong, Taiwan) Janneke Langelaan (Netherlands and Flanders) Mercedes Martínez-Abarca (Caribbean region, Latin America, Spain and Portugal) Olivier Pierre (Francophone countries, excluding Africa) Delly Shirazi (Middle East and North Africa) and Annina Wettstein (German-speaking territories and Scandinavia).
Robert Gray, Jolinde den Haas, Kim Haery, Aihara Hiromi, Stefan Ivančić and Roberto Turigliatto will continue to advise the festival. IFFR's short-film programmers are Anna Germanidi, Erwin van 't Hart, Marta Jurkiewicz, Helena Kritis, Koen de Rooij, Julian Ross and Theus Zwakhals. Mid-length programmers are Lyse Ishimwe Nsengiyumva, Maaike Gouwenberg and Edwin Carels, with Nsengiyumva advising for sub-Saharan Africa. Peter van Hoof heads the editorial team responsible for the shorts and mid-length programme.
In other tweaks to the programming, what was previously called Regained, will be renamed and enlarged to Cinema Regained, comprising films reflecting on the living history of cinema. This section, with Olaf Möller as lead programmer, will feature recent restorations, films about film history (often accompanied by complementing titles), as well as tributes to people and institutions whose work embodies these connections, usually based upon a recent work or project.
"Many festivals have archival presentations, but what we want to explore further is the role of the archive and emphasise the political and creative dimensions that working on/with film history entails. It really is [again] about the dialogue," Kaludjercic said.
Limelight remains as IFFR's section for highlights of the year in arthouse. VR works will be presented within the Art Directions programme.
50th anniversary celebrations
Kaludjercic has had to deal with all the challenges posed by the coronavirus pandemic as IFFR prepares for its landmark 50th edition.
"The word 'rollercoaster' wouldn't cover it. It has been a hell of a ride," she said. "The pandemic was certainly a big shock for the team but what brought us together in a very interesting way is the collaboration we have put in place, thinking about what concepts we can offer as solutions for this current situation. I was very happy to see how that brought the energy up."
The 50th anniversary programme is likely to involve previous Tiger winners. Former directors of the festival will also be invited back to join in the celebrations.
Kaludjercic and her team are preparing for different scenarios regarding the COVID crisis. They are ready to stage a hybrid festival with a greater digital emphasis. They may also screen films in cities across the Netherlands as well as in Rotterdam.
"There are still a lot of things in the air largely because, of course, we do not yet know the level of restriction we will have and how many participants we will be able to invite from all corners of the world."
Kaludjercic paid tribute to the "level of commitment and talent, energy and resilience" shown by the IFFR team in the current, unprecedented situation. That showed, she said, "that no matter what, we are going to have a great festival."
"We are confident we will be able to organise a real and festive event, a celebration that also expands on IFFR's mission to explore new, digital and online possibilities in cinema."