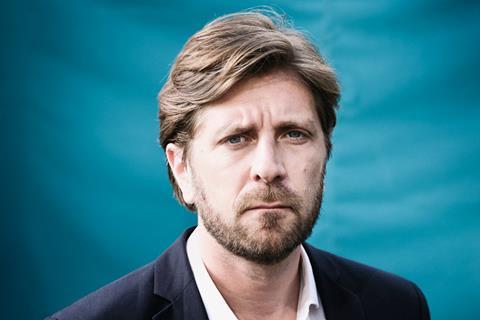 Ruben Östlund's next feature Triangle Of Sadness is being lined up for a 2020 shoot, and will be his first film fully in the English language.
Triangle of Sadness was one project on the slate of Film I Vast, Scandinavia's leading film funD presented in Cannes yesterday.
The film will partially shoot in a studio in Trollhatten, Sweden as well as on location on an island and on a luxury yacht in the Mediterranean.
The team describes it as a "a surrealist comedy, looking at what happens when hierarchies are turned upside down on a shipwrecked cruise ship." Characters include models, a Marxist ship captain, a Filipino cleaning lady and a billionaire.
Ostlund's and Erik Hemmendorff's production company Plattform Produktion will produce.
Hemmendorff told Screen the film's themes include "economic and social hierarchies."
One scene Ostlund teased yesterday will be about a male model and a female model having an awkward moment when they are presented with the bill after a dinner date.
The project has already been casting in Scandinavia, London, Los Angeles, Paris and Germany. Hemmendorff revealed Ostlund has already had one-to-one casting sessions with about 100 actors to build his perfect ensemble cast, "like assembling his Real Madrid squad…he meets actors from the most famous to total unknowns," the producer said.
Phillipe Bober's The Coproduction Office is expected to handle international sales as he has done with Ostlund's previous films. The Triangle Of Sadness' budget will be just over $11m (Euros 10m), Ostlund's largest so far.
A further Plattform production backed by Film I Vast is Ninja Thyberg's buzzy debut feature Jessica, a drama set against the world of the Los Angeles porn industry. It has finished the LA portion of its shoot and will shoot in Sweden later this year, being readied for a mid-2020 launch. Pape Boye's Versatile is handling international rights.
Another new project unveiled at the Film I Vast lunch is a new thriller, as yet untitled, directed by Tarik Saleh and starring Fares Fares. Atmo is producing with support from the Swedish Film Institute and Creative Europe. The story is described as a thriller set in a religious university, blurring the line between fiction and reality.
"Tarik is such an excellent filmmaker and Film I Vast has been involved in all his films," said Peter Possne, head of production at Film I Vast. "The Nile Hilton Incident was a huge success."
Possne told Screen the fund's slate includes 29 feature films and 15 Swedish TV dramas.
Anthony Muir, senior executive co-productions for international films, added: "We have a goal to do about 12 Swedish films and 15 international films per year."
Possne noted another highlight of the slate is Mikael Hafstrom's serial killer story A Perfect Patient, which will have an autumn 2019 launch. "It's one of the best Swedish thrillers I have seen in years, it will have a big audience," he predicted.
Another top project for an autumn launch is Jesper Ganslandt's 438 Days.
Muir the slate is "quite diverse, we're doing films that get selected to open Berlin and Cannes, and we're also working with a film like The Hitman's Wife's Bodyguard."
Film i Vast's funding is about $10m (100m SEK) per year. International films do not have to shoot in the region but can tap into Film i Vast funding by doing post-production in Goteborg or Trollhattan; the leading post companies in the area include Chimney, Can Film, Filmgate, and CloudBerry. Film i Vast invested in several films in Cannes this year: The Dead Don't Die, The Whistlers, A White, White Day.
Film I Vast recently launched the first regional production rebate in Sweden, in Västra Götaland, which Muir says he hopes will lure in more international productions to also shoot in the area, not just do post there. The first project to tap into the rebate will be TV's Irene Huss Reboot, which starts shooting the summer.
The Film I Vast slate of features also includes David Sandberg's Kung Fury 2, Sally Potter's untitled film, Linda Hambäck's animation The Ape Star, Thomas Vinterberg's The Alcohol Proejct, Maria Sodahl's Hope, Jens Jonsson's The Spy, Jonas Alexander Arnby's The Suicide Tourist, Niels Arden Oplev's Daniel, Eirik Svensson's Betrayed, Eskil Vogt's The Innocents, Joachim Trier's next as-yet-untitled film, Valdimar Jóhannsson's Iceland-set Lamb, Joachim Heden's Breaking Surface, and Maria Sodahl's Hope.
Possne noted the 2020 slate also appears to be busy with higher-budget Swedish films.
The organisation revealed it is the first Scandinavian production outfit with an in-house climate consultant, Ronny Fritsche.