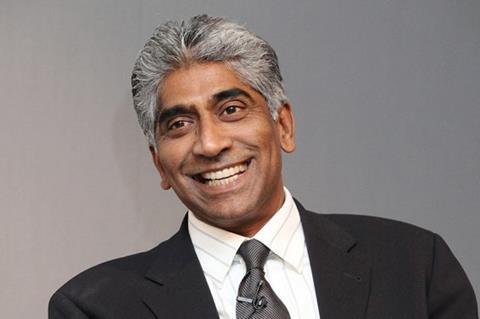 Endeavor Content and Hyde Park Entertainment are partnering on a feature adaptation based on the iconic Rubik's Cube puzzle.
The project is out to writers and is being produced by Hyde Park chairman and CEO Ashok Amritraj (pictured), with Hyde Park's Priya Amritraj and Addison Mehr serving as executive producers.
Hyde Park is also partnering with Endeavor Content-owned Glassman Media on a game show, on which Ashok Amritraj and Andrew Glassman will serve as executive producers.
The Rubik's Cube, invented in the 1970s by Hungarian architect Erno Rubik, has sold more than 450m units worldwide.
Each year the 3D puzzle inspires the world's best professional and amateur speed cubers to compete in a world championship.
Hyde Park's current feature slate includes Arthur Ashe, a biopic of the African American Wimbledon Champion written by Kevin Willmott in partnership with Warner Music Group; animated musical Pashmina with Netflix, to be directed by Gurinder Chadha with music by Oscar winner A.R. Rahman; the remake of rom-com 10 at Warner Bros; and Remote Control starring Gerard Butler at STX.