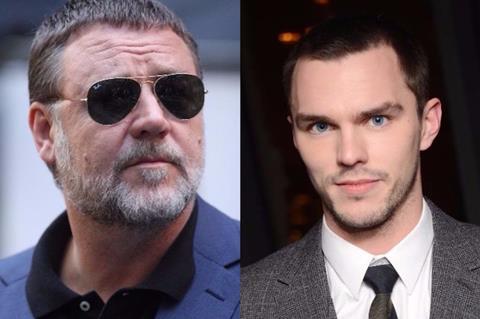 Russell Crowe, Nicholas Hoult, George MacKay, and Essie Davis will star in True History Of The Kelly Gang.
Rocket Science will handle international sales. CAA, which arranged the film's financing, will represent US rights, and the film will be distributed in Australia and New Zealand by Transmission Films.
The feature is set to shoot in Victoria, Australia, next year starting in March. Director Justin Kurzel and writer Shaun Grant re-examine the mythology of notorious bushranger Ned Kelly in the form of a gothic western. Based on Peter Carey's Booker Prize-winning novel, the film centres on one of the world's greatest outlaws and the colonial badlands from which he rose.
Joining Mackay, Crowe, Hoult, and Davis are Travis Fimmel, and Sean Keenan. Dacre Montgomery, Harry Greenwood, Thomasin McKenzie and Earl Cave have also joined the cast.
True History Of The Kelly Gang is financed by Romulus Entertainment and has received major production investment from Screen Australia, in association with Film Victoria and Film4. The film was developed in collaboration with Film4, Screen Australia and Film Victoria.
MacKay is known for his roles in Captain Fantastic, Pride, Defiance, and more. Up next, he is starring in Ophelia alongside Daisy Ridley and Naomi Watts, and Where Hands Touch, alongside Amandla Stenberg and Abbie Cornish.
Crowe won an Oscar for his starring role in A Beautiful Mind, and his credits include The Nice Guys, Les Misérables, Cinderella Man, and Gladiator. He made his directorial debut on The Water Diviner, in which he also starred alongside Olga Kurylenko.
Hoult started his career opposite Hugh Grant in About A Boy before moving on to the hit UK series Skins. He has starred in films like Mad Max: Fury Road, X-Men: Days Of Future Past, Equals, and Warm Bodies. He is currently filming Tolkien alongside Lily Collins, starring as famed author J.R.R. Tolkien.
Davis is best known for her leading role in The Babadook, and as Lady Crane in series six of the HBO's Game Of Thrones. She most recently played the female lead opposite Bryan Cranston in Philip K Dick's Electric Dreams.
Kurzel said: "Peter Carey's book True History Of The Kelly Gang always felt like the true spirit of Ned Kelly. Unsentimental, brutal, raw and visceral. His story is one of the great odysseys in history, and I feel excited to be bringing it to the screen with a fresh cinematic eye. This is a really unique and modern cast, and I am so proud to be working with such a talented ensemble of new faces and celebrated actors."
Rocket Science's Thorsten Schumacher said: "It's no surprise that this piece of material attracted such an incredibly talented cadre of artists. It's a masterful interpretation of the life of a fabled outlaw. This epic western will perform in territories across the globe and we are thrilled to be presenting it."
Liz Watts from Porchlight Films, Hal Vogel from Daybreak Pictures, and Romulus Entertainment's Brad Feinstein are producers. Carey, David Aukin from Daybreak, Vincent Sheehan from Porchlight and Joseph F Ingrassia from Romulus will serve as executive producers.