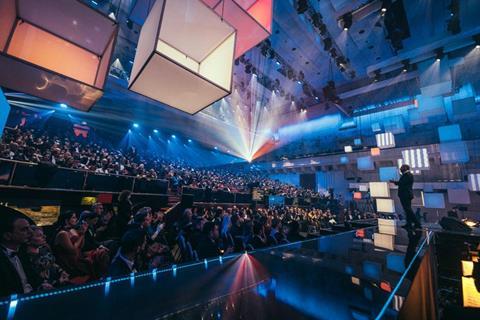 Ridley Scott, Russell Crowe and Jurassic World director Colin Trevorrow were among the honorary winners at the inaugural Malta Film Awards on Saturday night (Jan 29).
The event, hosted by UK comedian and actor David Walliams, was held at at the Mediterranean Conference Centre in Valletta and broadcast live on Television Malta. Local politicians and leading figures from the Maltese arts and film sectors were in attendance.
It was a lavish show, full of music and dance interludes and flashy lighting effects. Local media reported that some prominent filmmakers had declined to attend in protest at the level of public spending on the awards – money they felt could have been better spent on supporting local production.
Nonetheless, Malta Film Commissioner Johann Grech, who oversaw the event, hailed the awards as an important staging post as the country strives to build a world-class film industry.
"You made this possible," Grech told the audience in an emotional closing speech. "I believed in you and you made it happen, bringing the public and the industry united together to celebrate the value of film and television… We want Malta to become a stronger player on the world stage. We are on the march to create a world-class film industry in Malta."
Winston Azzopardi's thriller The Boat starring his son Joe Azzopardi and shot in the famous Malta water tanks took the best film award; it is the feature directing debut for the veteran line producer, who has worked on several international productions that have shot on the island including Troy, Murder On The Orient Express and Jurassic World: Dominion. The Boat also won best cinematography.
Davide Ferrario's Blood On The Crown, about Malta's fight for independence against the British set against a bloody encounter in 1919, was the most lauded film of the night. It won awards for best actor (Harvey Keitel), best director for Ferrario, and best screenplay, production design, score, post-production, and hair and make-up.
In total, 18 awards were handed out during the ceremony.
Honorary awards
Jurassic World: Dominion director Trevorrow won the inaugural Malta Film Commissioner's award. Picking up his prize in person, he spoke of his delight at shooting part of the latest instalment of Universal's dinosaur franchise on the island.
"The sequence [of the film] that is set in Malta is truly spectacular. In a few months, you will be able to see it. I know that all around the world there will be children who are going to believe there are dinosaurs on this island."
The previous night, during a Q&A before a screening of his debut feature Safety Not Guaranteed (2012), Trevorrow had revealed that a key set-piece in Jurassic World: Dominion involves dinosaurs rampaging through the streets of Malta. "What I am proud of is that we shot Malta for Malta. It says Malta on the screen and everybody knows that it is here."
Scott, Crowe and Keitel weren't in attendance but recorded video messages in which they also paid tribute to Malta and its film industry.
In his speech, Scott, who shot Gladiator and White Squall on the island, confirmed that he plans to return to Malta with his new Napoleon Bonaparte epic, Kitbag. This time round, he will be turning Fort Risacoli in Kalkara, Malta – which he first used in Gladiator – into the site of Bonaparte's first victory, at the siege of Toulon in 1793.
"I can't wait to return. Your wine and food have improved dramatically in the past 25 years," quipped Scott, who received the Malta Film Ambassador award.
Speaking from his farm in Australia, Crowe apologised for taking 21 years to return to Malta after shooting Gladiator there.
"When I first went to Malta in 1999, I had no idea how much my life would change," said the actor, who received the Malta Film Industry award. "I worked there, I had friends there. I played cricket and football there. I laughed there and I fell in love with Malta and I knew in my heart I would return."
Crowe did finally return at the end of last year to shoot 19th-century boxing drama Prizefighter: The Life Of Jem Belcher on the island. The actor plays an unknown role in Daniel Graham's period film, which stars Ray Winstone and Matt Hookings.
Crowe also reminisced about playing Maximus in Gladiator. "I am sure there are people in this room tonight that shared the experience of making that film, as Praetorian guards, vestal virgins, senators or citizens. You know what an amazing experience it was, to time-travel on Ridley Scott's set, to be in ancient Rome, even just for the hours of the working day."
Paying tribute to the "kindness, humour and generosity of spirit of the Maltese people", the Australian star revealed that Grech has offered to build him an office in the new €35m soundstage development at Malta Film Studio so that "Maximus will always have a place in Malta and that touches my heart."