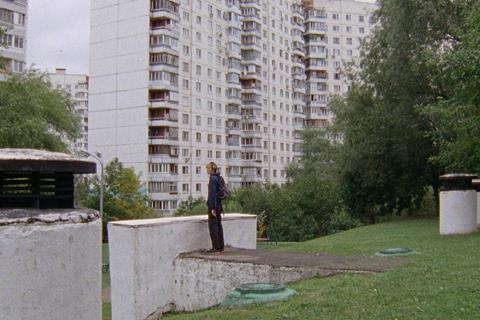 Russian filmmaker Ekaterina Selenkina's urban drama Figures In The Urban Landscape has won the $50,000 ($55,834) Eurimages Lab Project Award at the Les Arcs Film Festival in the French Alps.
The production, capturing day-to-day life on the outskirts of Moscow through the drug drops of a local dealer, was among 18 projects at the production stage in Les Arcs' Work In Progress event.
It is Selenkina's first feature after a handful of shorts including the well-travelled Storge. Moscow-based producer Vladimir Nadein presented the project.
Greek director Gregoris Rentis's hybrid documentary To Sail Close To The Wind won the TitraFilm Jury Prize, offering €10,000 ($11,166) worth of image and sound post-production services.
The work explores the world of private maritime security through a fly-on-the-wall documentary following a group of mercenaries guarding vessels from pirates.
It is produced by Athens-based Asterisk* and French company Good Fortune Films.
The Eurimages jury consisted of former Edinburgh International Film Festival artistic director Mark Adams, Festival Scope co-founder Mathilde Henrot, and Turkish festival programmer Azize Tan as well as Tara Maurel, who follows international co-productions for France's CNC and is also a representative of Eurimages. Just five of the 18 projects were eligible for the Eurimages prize, while the remaining projects competed for the TitraFilm award. Only Adams, Henrot and Aziz voted on the latter prize.
The €5,000 ($5,584) Alphapanda Audience Engagement Award, offering digital marketing support, went to Kosovan coming-of-age drama The Hill Where The Lionesses Roar.
It is the debut feature of 19-year-old French-Kosovan director Luàna Bajrami, who recently played the role of the servant girl in Céline Sciamma's Portrait Of A Lady On Fire.
The jury, consisting of Wendy Mitchell, Mathias Noschis and Joanna Solecka, said that the director is "an exciting new female voice, telling a story of her generation".
Other buzzy projects at the day-long Work in Progress pitching event some 2,000-metres up the mountain, included Icelandic director Valdimar Johannsson's supernatural tale Lamb, which has already secured sales representation with New Europe Film Sales.
Hot Works in Progress without sales attached included Belgian director Eva Küpper's documentary Dark Rider, Hungarian female bodybuilding tale Beauty Of The Beast by Anna Nemes, and Danish drama Shorta.
The latter revolves around two police officers who are on patrol in Copenhagen's notoriously tough Svalegarden ghetto when news that a young resident has been killed in police custody, enflaming tensions in the neighbourhood. It is produced by Copenhagen-based Toolbox.
The top prize of Les Arcs' Co-production Village, the €6,000 ($6,701) Artekino Festival Award, went to German director Marieke Engelhardt's timely drama Rabia, about a 19-year-old French girl who heads travels to Raqqa, the Syrian stronghold of ISIS. There, she finds herself housed in an ISIS women's shelter with another one hundred women from all over the world. It is lead produced by Paris-based production house Lionel Massol.
A total of 22 projects at the development stage were showcased at this year's edition.
The €1,500 ($1,675) T-Port Award of the Talent Village, aimed at showcasing eight first feature projects of emerging filmmakers went to Israeli filmmaker Dana Lerer's Double Happiness.
It revolves around a seemingly happy married couple, who are parents to two young daughters, whose life together comes under pressure when the wife falls in love with another man.
A special mention went to Dutch director Thessa Meijer's drama Volcano Girl, about an 11-year-old girl who discovers her budding sexuality impacts the activity of a local volcano.